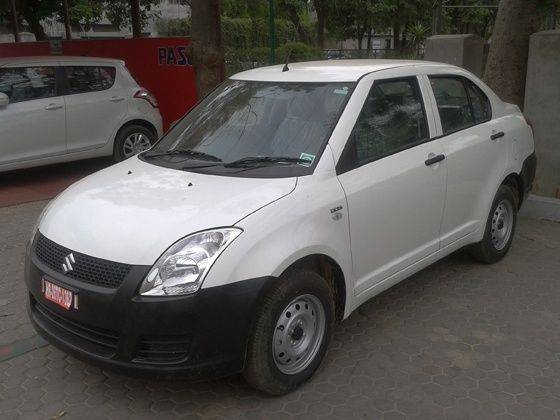 The old Swift DZire in taxi avatar has been christened Swift Dzire Tour! The car is now available in stripped-down versions of the previous Lxi petrol and Ldi diesel variants. The price of the petrol Swift DZire Tour has been fixed at Rs. 4.88 lakh while the diesel variant of the Swift DZire Tour is on sale for Rs. 5.91 lakh (ex-showroom New Delhi).
The Swift DZire Tour for the fleet/taxi market is pretty Spartan in terms of kit. Chrome bits from the grille and elsewhere will be gone and body-coloured bumpers give way to regular all-black units to cut down costs. The interior upholstery has been changed to cheaper, more durable materials so that they can rough it out in the taxi market. But despite cutting down on the frills, Maruti has retained the air-conditioning and power steering systems in the cars.
The Swift Dzire Tour makes perfect sense for the corporate/taxi market owing to its larger boot and affordable price tag. Compared to the new sub four meter Swift DZire's 316 litre boot, the old Dzire has a rather humongous 440 litre cargo area, which Maruti expects will be a huge draw among fleet operators.
Speaking on the occasion, Shashank Srivastava, Chief General Manager-Marketing, Maruti Suzuki said, "Fleet and Taxi customers are a crucial part of our business. Maruti Suzuki vehicles have been appreciated especially by the fleet customers for their low Cost of Ownership and high fuel efficiency. The Dzire Tour will continue to meet this important need of the customers."
The Maruti Suzuki Swift DZire Tour will take on the likes of the Toyota Etios, Mahindra Verito and the Tata Indigo XL in the fleet/taxi market.