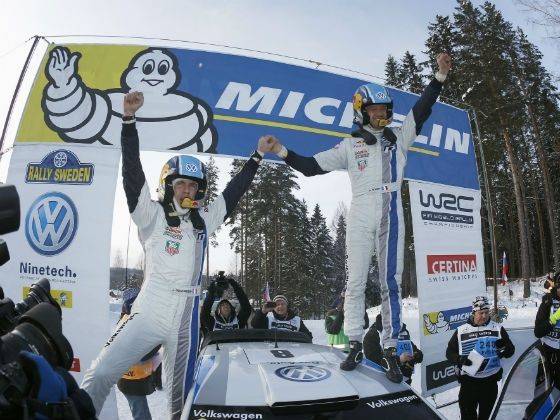 In what he claims as 'probably the greatest moment' of his career Sebastien Ogier gave Volkswagen Motorsport its first World Rally Championship (WRC) victory in only its second outing as a factory team.
The French rally driver emerged into the lead in SS2 and won 11 of the 22 stages, including the event ending Power Stage, to claim victory 41.8 seconds ahead of reigning champion Sebastien Loeb. The result felt even more glamorous considering it was just his second competitive event in the Polo R WRC.
Ogier set the pace in the qualifying stages on Thursday, but dropped down to ninth in the opening stage of the rally on Friday. From then he bounced back hard, to gain the lead in the second stage of the rally and took victory in five of the six stages on Friday.
At the end of Day 1, the Volkswagen driver was 31.4seconds ahead of Loeb, but saw his lead cut down to 25.2 seconds in the first loop on Saturday. Thereafter the 29-year old drove brilliantly to regain his dominance by setting a joint fastest time in SS13 and ending Day2 with a comfortable lead of more than 26 seconds.
But knowing that veteran Loeb was close on his heels Ogier's focus remained on the road ahead. Loeb managed three consecutive stage wins from the start of Day 3 on Sunday and kept his Volkswagen compatriot under pressure. Ogier didn't succumb to the pressure eventually taking his first win since his home rally in 2011. This is the first time a non-Scandinavian driver has won the Swedish Rally making it even more sensational for the Frenchman.
Thanks to his podium and win in the first two rallies of the season, Ogier currently leads the Drivers' Championship Standings with 46 points, just three points ahead of Loeb. Meanwhile, Volkswagen Motorsport is currently placed second in the Manufacturers' Championship Standings.
With his current form and a car like the VW Polo R WRC, could Ogier be on his way to his first WRC title? While Loeb's absence from most of the rallies this season automatically makes Mikko Hirvonen a favourite for this year's title, Ogier's competence behind the Volkswagen could very well conjure up unexpected results. All said, this season is surely going to be an extremely interesting one to follow.