Nurburgring-Conquering Porsche 911 GT2 RS Launched In India
---
Pushed your driving skills to the limit on every other road car? Here's a better one for you to try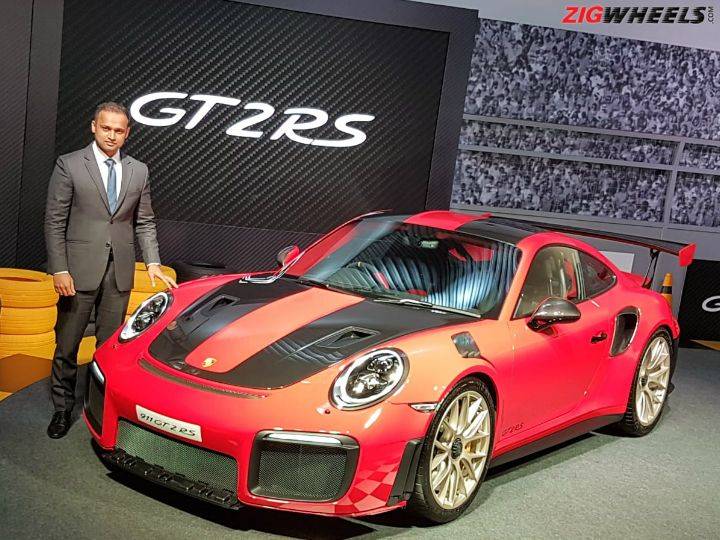 Porsche has launched the most powerful and track-focused road-going 911 ever in India. Priced at Rs 3.88 crore, ex-showroom Gurgaon, the 911 GT2 RS comes to our shores more than a year after it made its international debut at E3 2017 (because of a tie up with Microsoft's/Turn 10 Studios' Forza Motorsport 7 video game). The 911 GT2 RS promises to be the best car you can experience driving pleasure/terror in currently.

This is the most powerful Porsche 911 ever built -- this 991 generation variant continues to be powered by a flat-six engine, as is GT2 RS tradition, fed dollops of charged air by twin turbochargers. It now uses a larger engine than its predecessors (3.8-litre as compared to 3.6-litre in the previous 996 and 993-gen cars) and is only available with a 7-speed PDK (Porsche Doppelkupplungsgetriebe) dual-clutch automatic transmission.

Why, if this is the ultimate road-legal track car from Porsche, does it only get an automatic transmission? Well, that 3.8-litre screamer develops 700PS of power at 7,000rpm and 750Nm of peak torque and sends it all to the rear wheels! Even superhuman pro-driver-like reflexes would find it difficult to keep all that in control and be fast at the same time. Fret not, you can have total control over the gearshifts using either the paddles behind the Alcantara-covered steering wheel or the beautifully crafted gear lever.

The 2.8-second 0-100kmph time is not just because of that stonking engine; the aggressive cuts, scoops, vents and that massive wing help develop over 350kg of downforce and keep the car glued to the road for maximum traction. Porsche has also managed to keep the drag coefficient low enough to allow the 911 GT2 RS to hit a top speed of 340kmph!

You may also find the 911 GT3 RS's interior a bit spartan. It's still reeks of quality but misses out on leather-this-and that, door handles, a proper dashboard, comfortable looking seats etc. This has been done to save weight. The outer shell also gets weight saving measures: The roof is made of magnesium, carbon fibre is used for the hood, bootlid, front splitter and rear wing, the side- and rear windows are made of a plastic-like material and the exhaust is full titanium.

For those looking for even faster times on track, Porsche is also offering the 911 GT2 RS with the 'Weissach' package, which reduces the overall weight by 30kg. The roof is now carbon fibre, so are the anti-roll bars and coupling rods. Also added are a set of weight-saving magnesium wheels. Porsche will even delete the only 'luxury' features in the car, the infotainment system and the climate control system, to help you achieve that perfect lap time. Speaking of lap times, you can watch the 911 GT2 RS' record-breaking Nurburgring lap below:
Add Your Comments