No Dakar Rally Success for Ricky Brabec Without Brutal training
---
Going off into the desert, Google Earth, a change of venue and a closely guarded training regimen were the ingredients that led to Ricky Brabec becoming the first American to win the Dakar Rally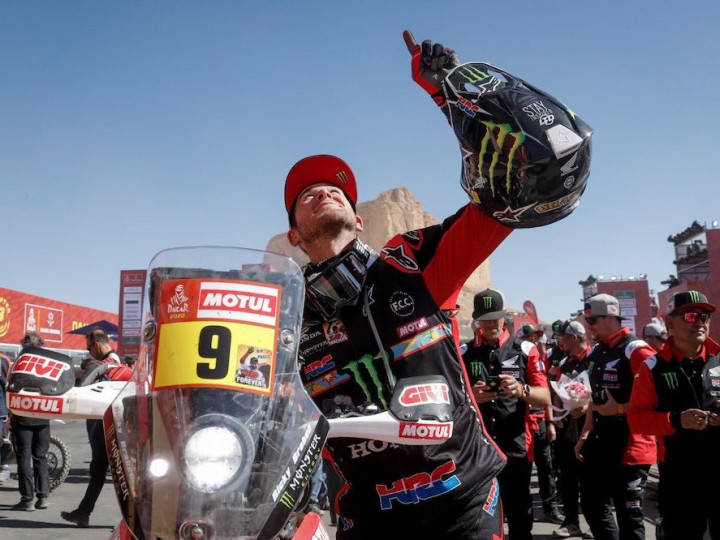 Two things stood out during the time that the 2020 Dakar Rally motorcycle champion Ricky Brabec spent at the launch of the new Honda Africa Twin. Which now seems like a lifetime away, even though it was just 20 days ago.
The first was him humorously trying his best to hide how tired and frustrated he was at the media commitments that came after becoming not only the first American winner at the Dakar Rally, but giving Honda its first win since…1989! In the process, breaking KTM's 18-year stranglehold on the motorcycle category.
The rise of adventure touring motorcycles in India, thanks in no small part to CS Santosh and those who followed, has led to manufacturers seeing sense in launching the top of the line models here, and also using the Dakar Rally as a hook for those with cash to spare.
It made sense for Honda India to latch on to the opportunity to get the man who gave them success in the biggest cross-country rally in the world and get him to liven up the launch. However, 28-year-old Brabec had a different response to the suggestion.
"What?! No!" This was what the California native had to say about being flown halfway across the world to a hotel near the Indira Gandhi International Airport in New Delhi.
"I am missing a race back home for this," said Brabec. "I just want to go home and eat, sleep and train and ride, I haven't even been to the gym yet."
Which brings us to the second recurring theme in Brabec's brief time here, his training. The details of what he does are a closely guarded secret, but what he is all too willing to share is that if his training is not harder than what he faces in an event, then success is very hard to come by.

"In 2007 my parents moved to the high desert part of the Mojave Desert (an area of 124,000 square kilometers across California, Nevada and Arizona), where it can get as hot as 115 degrees (that's 49 degrees Celsius) in the summer.
"And that is pretty much my backyard. I go off for a couple of days by myself into the desert, do my roadbook training and sleep in the desert."
Brabec maintained that his three straight retirements prior to winning the first Saudi Arabian edition of the Dakar Rally were not down to any lack of preparation on his part.
"For 2020 the only doubt I had was if everyone did their job with the bike," said Brabec. "I knew I could make it, but I didn't know if the bike could make it."
If there was a shortcoming to his riding, it would be struggling in the dunes, of which there were plenty in the South American editions of the Dakar Rally from 2016 (his debut on the event) to 2019.
The change of venue to Saudi Arabia changed everything, though, as well as the new rule that gave every competitor pre-coloured roadbooks.

"I knew before I got to Saudi Arabia that this was my kind of terrain," said Brabec. "I went on to Google Earth and checked out what the landscape was like, and it looked like home.
"Many riders weren't very happy about the first six days when it was fast and rocky, but I loved it."
By this time, Brabec had started to show severe signs of media fatigue and admitted that former two-time Dakar Rally winner Toby Price may have been on to something when he warned him about just such a situation.
"Man…I'm gonna throw my phone into the ocean when I am done here," said Price looking severely drained of energy.
At the risk of annoying him some more, I asked him specifically about the diet a top cross-country rally-rider would follow.
"You gotta be a little thick like me and Toby to do this," said Brabec. "You gotta eat."

When asked if such a sport could be done on a vegan diet, Brabec was very doubtful. I figured I ask him that question as Arnold Schwarzenegger's documentary film The Game Changers – advocating a vegan diet for professional athletes - had been doing the rounds on Netflix for a couple of years.
"I don't think you can get everything you need to ride flat out in the desert for eight hours a day straight for two weeks," said Brabec. "I guess someone would have to do it and be successful for me to be convinced."
Brabec made it a point to castigate what he saw as a diet fad, however, the Keto diet, which is a no carbs diet, requiring the person who tries it to get the energy they need through fat.
"That shit absolutely messed me up man," said Brabec. "I had no energy left to do anything with that. I would never do keto again."
At that point I decided to let him use whatever little energy he had left for yet more interviews.

Add Your Comments