NITI Aayog Gets Its First Fast-Charging Station
---
A Hyundai Ioniq electric was also showcased at the inauguration of the first fast-charging point.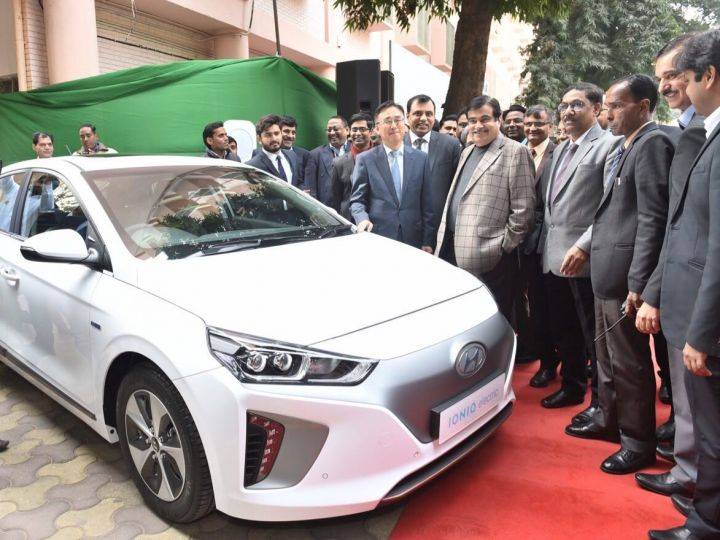 After EESL received the first batch of electric Tigors from Tata, the NITI Aayog government body has now installed ABB fast chargers in its campus. The ABB Terra 53 fast-charging station will be used by officials to juice up their official electric vehicles at the organization's office in New Delhi. The Terra 53 electric charger converts alternating current (AC) from the grid to the direct current (DC) used by EV batteries, and can work with EVs that use AC charging as well. This ABB's 50kW fast-charging station can provide a full charge to the connected electric vehicle in 30 minutes.

The installed charging station also features ABB Ability Connected Services. This allows the company to link the charging station to payment platforms and smart grid systems. This connected technology also help plan where the next charging stop should be, according to to the availability of charging stations. This installation goes a long way in strengthening the NITI Aayog's commitment to convert all their vehicles to electric ones in the coming months.

On this occasion, Sanjeev Sharma, Managing Director of ABB India, said, "We are thankful and honoured to support Indian Government's thought leadership and drive to systematically transform the nation's transportation base to electric vehicles. ABB reinforces its commitment to the nation's future of renewable power generation and clean electric transportation with our global technologies made in India.''
"We will continue to deploy and leverage the next level of global, open standard technology to provide the best-in-class reliable and cost-effective EV charging experience for Indian citizens living in smart cities. We believe that smart cities are made of smart elements and ABB EV Charging technology is one such important element." he added.

This move by NITI Aayog is definitely a step in the right direction and should encourage more government and even private bodies to convert their office fleets to electric, or at least install a fast charger in their facility to help employees shift to electric cars.
Add Your Comments