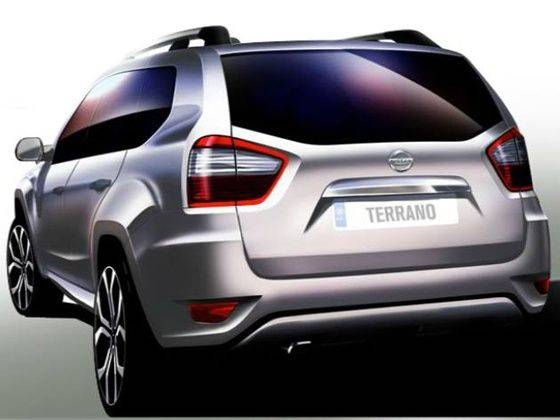 In June 2013, Nissan had revealed the first sketch of its Renault Duster-based SUV, named Terrano. Unlike most badge-engineered vehicles, the Terrano, at least in its first revealed sketch, seems to have been heavily reworked on the design front. [Update (20/08/2013): Nissan showcases Terrano SUV in India]
The Japanese car maker has now revealed a sketch of the Terrano's rear as well. Styling changes over the Duster include new split rear tail lights and while the rear windshield remains the same, the tailgate gets an altered licence plate holder. The rear bumper has also been marginally restyled to accommodate the reflectors at a slightly altered position around the corners.
Interior changes are expected to be limited, however, the Terrano will likely pack in more equipment over its Renault counterpart.
Mechanically, the Terrano will remain identical to the Duster in terms of its powertrain, suspension setup and electronics.
The Nissan Terrano will be priced anywhere between Rs 50,000 and Rs 1 lakh (depending on the variant) above the Duster because it has been borrowed from Renault.
The Terrano will be built at its Oragadam Plant alongside the Micra hatchback, Sunny mid-size sedan and Evalia MUV. The SUV will be launched in 2013, though as of now there is no confirmed launch date.
Related Nissan Terrano stories:
Nissan's Duster clone named Terrano
Nissan Terrano to be unveiled on August 20 in India