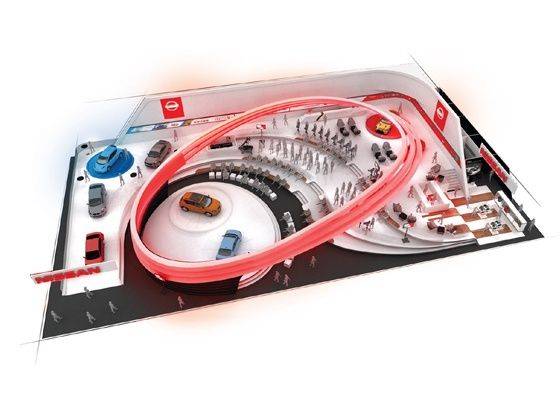 While performance seems to be the code word for some hi profile brands the likes of MINI, Bentley, Chevrolet and Lexus offering enthusiasts a peek at expected new arrivals ahead of the 2013 North American International Auto Show (NAIAS), Japanese car maker Nissan has opted to channelize its efforts more on the presentation aspect of its stand at this year's show.
To greet this year's NAIAS visitors with greater aplomb Nissan will debut its new global auto show stand design that features a multi-level flooring for vehicle displays, an amphitheater-style stage and soaring architectural elements.
The most imposing of these stage elements would be its 150 ft. long and 45 sq. ft. wide halo that will appear to float over the dual-turntable stage. Not surprising however is Nissan's decision to include an Xbox Kinect technology powered interactive wall, where one could perhaps reminisce on the brand's 79 years in the automotive business.
One stand out feature planned for its NAIAS stand this year would have to be a special piping that will play mood setting music and release a distinctive fragrance into the display area at regular intervals. The background music will change with a subtly different vibe and energy for morning, mid-day and evening.
Also part of the presentation arsenal this year are six interactive screens incorporated into the back wall to give consumers a more accessible, hands-on view of the brand than traditional, physical auto show displays.
And just in case you plan on visiting just to see the cars and couldn't care less what sort of plank they have been placed on Nissan will showcase a concept vehicle for the very first time on Tuesday, 15th of January.
Other vehicles taking the floor this year include the 2013 Altima and Sentra sedans, the redesigned Pathfinder crossover, the updated 2013 Nissan LEAF, and a one-off special edition gold Nissan GT-R, which incidentally honours Nissan's ongoing relationship with Olympic champ Usain Bolt.