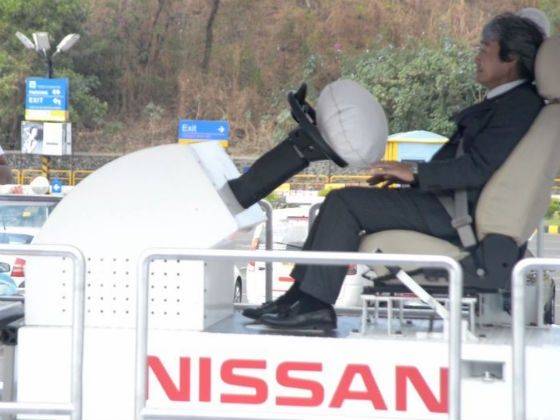 Similar to Delhi, the Safety Driving Forum in Mumbai was also aimed to spread awareness of road safety by highlighting the benefits of various safety oriented technologies in cars, like the Anti-lock braking system, air-bags and most importantly seat belts.
The program that was conducted in Mumbai in the parking area of the Inorbit Mall in Malad on February 16 and 17, helped participants understand and learn about various safety measures in vehicles through a panel of simulators.
Participants could experience the actual working of an anti-lock braking system in a special simulator created by Bosch. A separate simulator gave participants a feel of how and exactly when airbags are deployed in the advent of an on-road collision.
To emphasise the importance of seat belts, visitors were made to sit in a roll-over simulator, to reassure that even in the event of a 360 degree roll-over crash, the seat belts keep you absolutely safe.
Speaking on the occasion Takayuki Ishida, Managing Director & CEO, Nissan Motor India Pvt. Ltd, said, "The growing number of cars on Indian roads has also resulted in increased number of accidents. Nissan as an automobile manufacturer understands its social responsibility and strongly believes that "Safety begins with ME." The Nissan Safety Driving Forum has been formed to educate drivers, co-passengers as well as other road users on safety practices with a focus on reducing road accidents."
The Japanese automaker will continue to spread awareness on safety as it takes the Safety Driving Forum to Chennai.