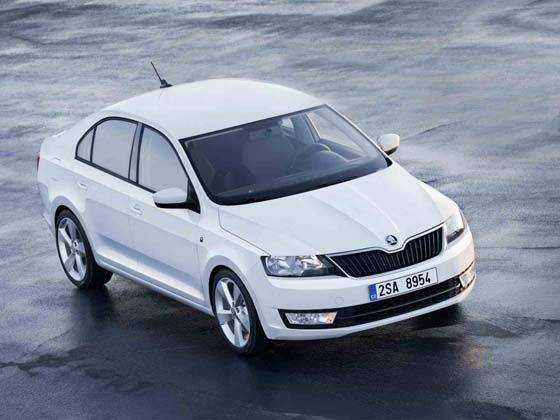 The new Skoda Rapid compact sedan will go on sale in Europe later this year and will be launched in Russia and China later. The car's design takes many cues from the almost production ready MissionL concept that the company showcased for the first time at the Frankfurt Auto Show in 2011.
The Rapid is one of the first cars to feature Skoda's new design language, including chiselled bodywork, with a crisp straight line running across the side, squarish headlamps which lose the LED running lamps featured on the MissionL concept, new grille with horizontal slats, new bumpers and bigger logo on the bonnet which leads to two prominent creases running along the centre of the bonnet. The rear lamps have been carried over from the concept car but without the blacked-out effect and all-black roof. The rear also features two ridges beside the number plate, just like the Indian Rapid. New Skoda models will feature some of these design elements.
The Rapid will slot in between the Fabia and the Octavia (the Laura for us) in the European market. The car will be offered with seven engine options, including five petrol motors and two diesel motors. The car is 4.48 metres long, some 100mm longer than the Indian model, and is almost as wide at 1.7 metres. Skoda claims that the car will be able to carry five people in comfort while being loaded with goodies to keep them entertained and safe.
"This is a model which sets benchmarks in the compact saloon segment: The Rapid is a roomy, elegant and at the same time, an affordable car for the whole family, impressing with clever solutions, cutting edge technology and high economy," said Skoda's CEO, Winfried Vahland.