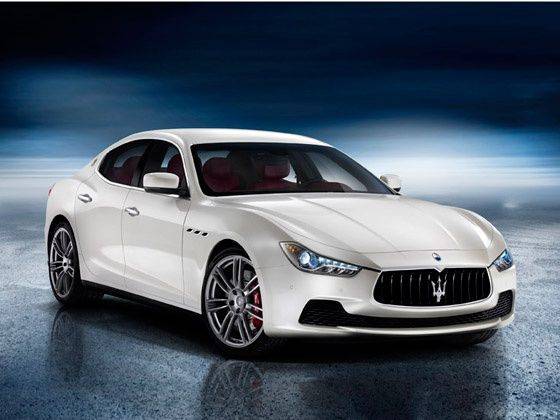 As strange as the word sounds, the name "Ghibli" is a true automotive legend. Produced by Maserati and penned by none other than Giugiaro back in the late 1960s, the gorgeous Ghibli was a 2-door sports coupe which went up against greats like the Lamborghini Miura and the Ferrari Daytona… and even outsold them! The original Ghibli name lived a fairly short life in automotive terms with production running from 1967 to just 1973. A revival in the form of the Ghibli II in 1997 rose to cult classic status, but lived an even shorter life.
Now however, the Italian sportscar and sports sedan maker has set the stage for the Ghibli to make a massive comeback in a whole new guise. In advance of its debut at the Shanghai Motor Show later this month, Maserati has released pictures and some information about its new Ghibli – a four-door executive sports sedan smaller than the Quattroporte which is expected to take on the Mercedes-Benz E-Class and the BMW 5 Series, at least in terms of size if not in price.
On the outside, the new Ghibli bears a lot of resemblance to its larger sibling, and rightly so, considering it was designed around a shortened version of the latest Quattroporte platform. But the brass at Maserati says that the Ghibli will be inherently sportier than the Quattroporte and will be available in rear-wheel drive as well as all-wheel drive with the new "Q4" AWD system. An eight-speed automatic transmission will be available as standard, while under the hood will be an option between a 3.0-litre V6 turbo-petrol and a 3.0-litre V6 turbo-diesel engine, making this Ghibli the first Maserati in history to be driven by diesel power.
The Ghibli is set to go into production later this year with deliveries starting around September-October and is part of Maserati's global strategy of reaching a sales target of 50,000 cars annually, of which it could account for as much as 50-percent in the next couple of years.