MV Agusta F4 RC Launched At Rs 50.35 Lakh In India
Jan 11, 2017
Views : 7473
---
MV has made sure that the F4 RC gets some of the best equipment and features one can imagine on a supersports motorcycle. However, there's one little problem...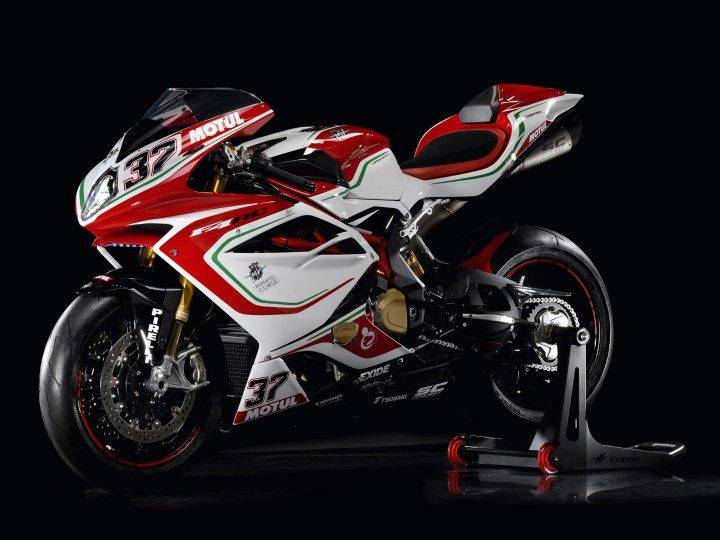 Italian motorcycle manufacturer MV Agusta has launched the limited edition F4 RC at a staggering Rs 50.35 lakh (ex-showroom, Pune). But, you haven't even heard the exciting (or, boring, depending on how you take it) part yet. Only one unit has been allocated to India out of the 250 examples! So, before you find yourself a kidney buyer or auction your home to make the arrangements for this, I'd suggest you call your nearest MV dealer to check if "the one" is taken or not. Nonetheless, the bike, because of its exclusivity, simply qualifies as a perfect specimen for a bike collector's dream. And why not? I mean, with only one unit on Indian roads, you have more chances of seeing aliens in Chandni Chowk than an F4 RC in person!
Moving on, let's focus on the facts that makes this bike so special of being worthy of this much money. For starters, the fancy liveries that you see here weren't the imagination of Picasso; instead, it is inspired from MV's World SuperBike Championship (WSBK) racer. In case you're wondering what 'RC' stands for, it's 'Reparto Corse', which probably translates to "very hot" in English.

Based on the Agusta F4 RR, the RC is hands down gorgeous. The raised and sculpted tail, a slender tail lamp unit, under seat exhaust pipe, single sided swing arm, a long muscular fuel tank, swooping-down nose with a bullet-type headlamp unit can melt the hardest of souls.
The RC uses the same 999cc inline four cylinder motor found in the F4 RR. However, the RC's beater produces 205PS of power that can be further raised to 215PS by using an additional racing kit. The motor also gets the 2.0 EAS (Electronically Assisted Shifting) Quick Shift with the 6-speed gearbox as part of the standard equipment. Just for the record, the engine has the capability to spin up to 13,600rpm, which, of course, can produce a miniature black hole near the crankshaft.

The bike also features several mechanical upgrades in terms of braking and suspension over the standard F4 RR. It gets high-end fully electronically adjustable Ohlins suspensions and high-performance Brembo GP 4-piston brake callipers both up front and out back. It also features an advanced Bosch ABS 9 Plus with RaceMode and rear tyre lift-up mitigation system. The bike also features the MVICS 2.0 (Motor & Vehicle Integrated Control System) wizardry, which lets the owner control throttle sensitivity, maximum torque, engine braking, engine response and rev limit. It doesn't end here - the bike's 8-level traction control with three gyroscopes and accelerometers can think on its own, however, you can switch off the electronic nannies anytime you want.

Sadly, though, all of this will please only one person in the country: yes you, you lucky owner. Now stop laughing at us peasants. Peace.