Muzzafar Ali wins 2013 Gulf Monsoon Scooter Rally
July 12, 2013
Views : 13220
---
The 24th edition of the Gulf Monsoon Scooter Rally witnessed its fair share of action as only 30 among the 38 registered riders managed to complete the race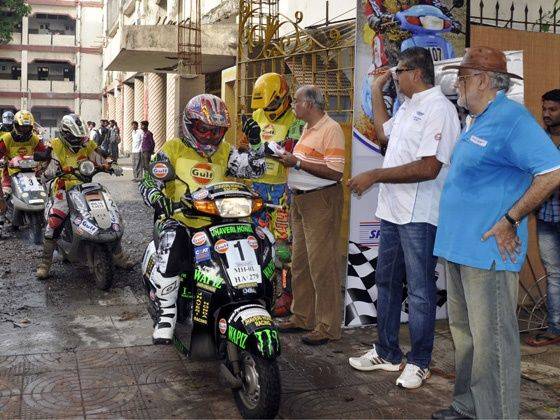 For several bikers monsoon means a hibernation period for their rides as most of them prefer not to venture out on their prized possessions during this time. But there lies a species of moto-maniacs who patiently wait for the rain Gods to show their magic so that they can have some off-road fun to savour the mud and slush. 38 riders lined up for this year's Gulf Monsoon Scooter Rally which was flagged off from Our Lady's Home in Parel. After completing the 35km transport stage the competitive stage in Navi Mumbai awaited them. Here the riders had to complete three laps of 5.5km each with the heavily quarried Uran Hills in the background to add to the drama.
It was Muzaffar Ali hailing from Bhopal who tackled the testing conditions skilfully to emerge triumphant in this year's rally. Ali completed the entire rally in a super quick 28 minutes and 50 seconds. Piloting his Suzuki Access he was able to keep his closest competitor and two-time champion Naskih's Shamim Khan and his Mahindra Rodeo at bay as he took the chequered flag nearly 12 seconds ahead of Khan. The glam of this win was multiplied for Ali especially considering that he was extremely close to a win last year as well.
Completing the podium was Bangalore's R Natraj astride a Wego riding for the TVS Racing Team and following him in fourth was reigning champion Rustom Patel who had a relatively disappointing outing compared to his high standards. Among the entire rider line-up, one name that caught everyone's attention was Loretta D'Lomen who proved that women can compete with men on any platform as she bravely tackled the difficult conditions (even a flat tyre) to finish the rally with a commendable timing of 1 hour 41 minutes and 47 seconds.
Dheradhun's Shradul Sharma who was riding a Honda Dio was adjudged the best first timer and awarded the late Firdosh Vajifdar trophy while Vikramjit Boparai was adjudged as the best Thane-Navi Mumbai rider. Although it didn't rain on the race day, it didn't quite make the task any simpler for the participants. The riding skills of every biker were put to test as they tried to tackle the gravel-laden, slushy course with numerous water-logged sections adding to their woes. Almost every rider took a tumble or more with few of them damaging their scooters as only 30 riders were successful in completing the race.