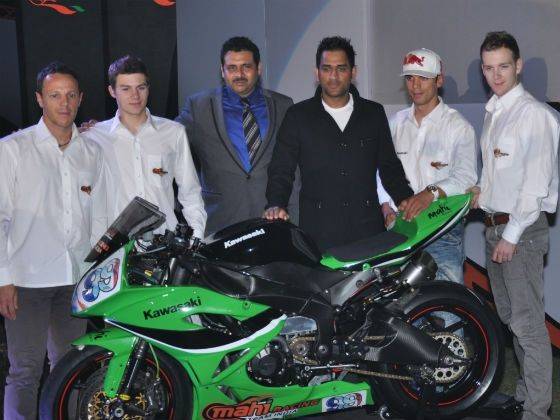 After ending the 2012 season of the World Superbike Championship in the Supersport category on a high note, Mahendra Singh Dhoni's Superbike Championship Team unveiled a new identity and announced two new riders in its line-up today. The team has been rechristened Mahi Racing Team India and their Kawasaki ZX-6R bike will sport a new logo and livery for the upcoming season. The Indian cricket team skipper took the wraps off the bike at an event in Mumbai.
Mahi Racing has signed up three-time world champion Kenan Sofouglu and former champion Fabien Foret, who finished the 2012 season in fourth place. The two new riders will join existing members Dan Linfoot and Florian Marino. Signed as the factory team for Kawasaki, Mahi Racing Team riders will be testing the Kawasaki Ninja ZX-6R during the official winter testing season. With the new rider line-up, the Indian team will aim for the 2013 championship title.
The team marked its entry in the world of superbike racing mid-way through the 2012 season. Dani Linfoot and Florian Marino put up some brilliant performances with a points finish by Marino in the very first race and a brilliant podium finish for Linfoot in the last race of the season at Magny Cours, France.
"We were targeting mid-table finishes to form a base for the next season (2013). But the team put up a sterling performance and created history by pulling off a podium finish after just five rounds. Our rider Dan Linfoot finished a remarkable third in Magny Cours, France. Our crew did an outstanding job by setting up the team in such a short time," said Arun Pandey, Chairman and Managing Director of the Mahi Racing Team.
Mahi Racing team, which will compete in all the races in the 2013 season, will also be seen in India with FIM World Superbike Championship debuting on the Buddh International Circuit in March. A lot of hopes and dreams are riding on the team with Mahindra Racing – India's other big motorcycle racing team – already making waves in the world of racing by winning the Constructors Title in the 125GP class at the Italian National Motorcycle Racing Championship (CIV) in Italy.