Motoring Personalities That Inspire Us: Mike Hailwood
---
We're all feeling a bit deflated with the ongoing coronavirus COVID-19 outbreak. To remind ourselves that there will be light at the end of the tunnel, here's another legendary tale of a rider who returned to racing after an 11 year hiatus…
Prologue: This article is part of a series covering motoring personalities that inspire us. If you haven't read it already, check out the first instalment covering Aussie legend Mick Doohan here.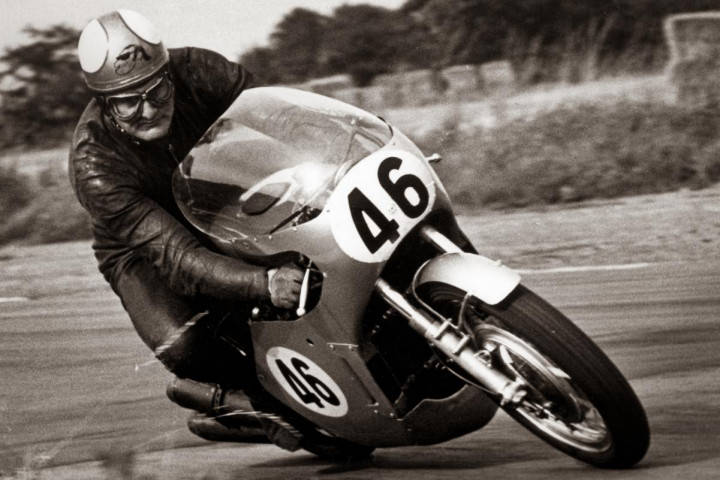 If you think of success as a quantifiable entity and plot it on a graph against time, most professional motorcyclists' careers follow a rather similar pattern. There's an initial rise, the steepness of which depends on the talent of the rider, then a short plateau where peak performance is maintained, followed by a gradual drop, either due to injuries or age.
It was much the same for a certain Mike Hailwood. The Briton won his first Grand Prix World Championship in 1961 in the 250cc class, racing with an up and coming manufacturer called Honda. The following year, he took the first of his 4 consecutive championship wins in the premier class - 500cc - all aboard an MV Agusta. This was the plateau region spoken about above.
1966 saw Hailwood line up for the 500cc races on a Honda for the first time, and though he picked up 3 wins that year, a further 4 retirements meant that he finished 2nd in the championship. The winner? Fellow legend and 15-time world champion Giacomo Agostini, aboard an MV Agusta.

The following year, the pair faced off once again, this time taking 5 victories apiece and ending up level on points after a full season of racing. But the championship once again went to Ago, courtesy of his three 2nd place results compared to Hailwood's two. This was the end of Mike's decline, as Honda pulled out of Grand Prix racing for 1968, and he went off to the world of car racing.
By this point, Hailwood had won 12 times at the Isle of Man TT - arguably the toughest, most dangerous race of them all. Held on public roads over a course that measures close to 61km, the circuit is lined with telegraph poles, trees, stone walls and even people's houses.
The last of Hailwood's 12 wins at 'The Island' came at the 1967 Senior TT, where he set a lap record at an average speed of 108.77 mph. Yep, averaging upwards of 175kmph over 61km on a motorcycle with drum brakes and bias-ply tyres. These were men of immense tenacity and even more immense bravery. Did we mention that they wore half-face helmets? Such were the times. That lap record stood for 8 years.

Mike 'The Bike' never enjoyed the same success on four wheels as he had on two, and serious injuries picked up from a nasty crash at the 1974 German F1 race pushed him into an early retirement. Having settled down in New Zealand and married long-time girlfriend Pauline, he probably never thought he'd ever race motorcycles again, let alone do another TT.
Let's cut away for a moment, to a man called Steve Wynne. Wynne himself raced Ducatis successfully in the mid-'70s, but in his own judgment was better qualified to work on the bikes rather than ride them. He was also concurrently building his Manchester-based company, Sports Motorcycles, into one of Britain's top sportbike dealers. But winning an Isle of Man TT remained a burning goal, and so to achieve this, Wynne took a back seat as a rider and starting working towards TT success with hired hands.

Campaigns in 1976 and 1977 came close to delivering success, but mechanical failures and reliability issues left Wynne and his team empty-handed. Around the same time, Hailwood had travelled to Australia to ride large-capacity Ducatis in long-distance races. Achieving some success, he entered a 3-hour long-distance event in April 1978, alongside Australian mate Jim Scaysbrook - the man largely responsible for getting Mike back into racing motorcycles.

A couple of months after the 1977 TT, Wynne travelled to Silverstone during the British GP, where he was introduced to a visiting Mike. One of Wynne's Ducati race-bikes was present in the paddock, and Hailwood wasted no time slinging a leg over."This is the kind of old fashioned bike I understand - wouldn't mind doing another TT on this!", he said. "Why don't you?!", Wynne replied, only half-jokingly. A few words and a handshake later, the deal was done.
38 years old and 10 years away from racing motorcycles, 11 away from the mountain course, a balding, limping and sweating Mike Hailwood lined up at the 1978 Isle of Man TT. He was aboard a Ducati 900SS provided by Steve Wynne's Sports Motorcycles.

What's that old phrase? "Just like riding a bike", innit? His very first lap on the Ducati was his fastest-ever lap of the TT course, a hair under 110 mph. That set the tone, and he went on to win the race. Grown men wept as he crossed the finish line. Near as makes no difference, he returned to the TT the following year and won the race aboard a Suzuki RG500, before retiring for good this time. Quite a graph, eh?
Up next, as Italy endures the worst of the COVID-19 crisis, we take a look at one of the nation's most underappreciated treasures…..
Add Your Comments