Mid-Engined Corvette C8 Debuts Soon: Here's Everything You Need To Know
---
The mid-engined Corvette C8 is distinct for sure, but why is this new supercar important for General Motors?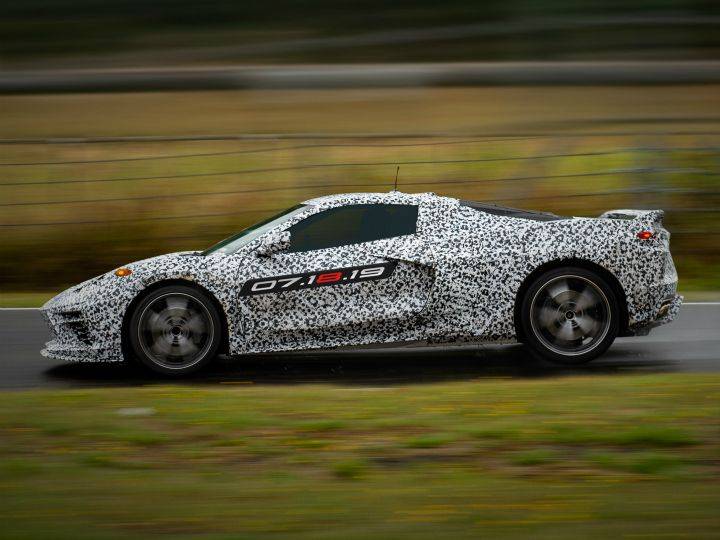 The Chevrolet Corvette is 65 years old!
Eighth-gen Corvette will be the first to feature a mid-engined layout.
It will continue to use a V8 and might feature turbocharging and a flat-plane crank.
It is expected to be priced between $60,000 to $70,000 (around Rs 45 lakh, excl. taxes).
Production set to begin later this year.
America's favourite supercar is 65 years old now and has gone through seven generations in this time frame. But these iterations, although paramount, more or less followed the same flavour. A front-engined two-door supercar that sends it power to the rear and gives some entrenched supercar makers something to worry about from the land of opportunity. The new Corvette C8 that is set to make its debut on July 18 packs more than what can be deemed as a 'facelift' or a 'generation change'. The 2020 Corvette C8, contrary to all the Corvettes in the past, will feature a mid-engined layout! Here's everything you need to know about the supercar and get up to speed before its global debut:

Does it still have a cool name?

Chevrolet has kept the anticipation at boiling point by releasing various, teasers, images and what not. One of these images also revealed that Chevy will bring back the iconic 'Stingray' name plaque which first graced the Corvette C2 in 1963. We think Corvette (a small warship) and Stingray are one of the coolest car names out there and is worthy of sharing the top spots with the Mangusta, Viper, Spitfire, Diablo, and Superbird, among others.
Is it still powered by a big V8?

'Murica and V8 is a better love story than Twilight and dates back to the early days of American automotive industry. Chevy's small block V8, or LS as it ubiquitously known, is one of the notable engines, with the outgoing Corvette also using an evolution of it. If there is anything that we can firmly speculate about the new Corvette, it would read something like-- the new Corvette will come with a big V8 no matter what! American supercars and V8s are something that goes in hand in hand that treading a different path, even if it's proven better, will lead to an outcry (Ford using an Ecoboost V6 in the Ford GT is a prime example).

The Corvette C8's second most incremental change might be the switch from a cross-plane to a high-revving flat-plane V8 as per various reports. Expect a motor that is good for around 500PS in the lower trims and close to 800PS on sinister versions like the ZR1 or Z06. There are also rumours suggesting that Chevy is working on a twin-turbo V8. The outgoing model uses a 6.2-litre LT1 V8, but the new Corvette being starkly different in terms of where the engine sits, is highly unlikely to use the same motor. There are also various speculations stating that the Corvette C8 might come with an AWD hybrid setup and a 7-speed dual-clutch gearbox. The hype is surreal and so, to put these claims to rest we'll have to wait a bit more.

What's new?

Chevorlet stuck to the FR-layout due to cost reasons and now they are switching to an MR-layout as it is superior owing to much better weight distribution and packaging. The mid-engined layout will also help Chevy compete against established players from various towns in Italy and Germany. The overall design will also be completely revised, but the 'Vette is expected to retain all its unique styling elements. Chevy has recently released some pictures showing the new supercar cruising around New York, while also confirming the debut date. It also released a trick video on YouTube showing the history of the car in brief. The C8 is expected to be priced somewhere in the vicinity of $60,000 to $70,000 mark (Rs 45 lakhs), with production set to begin by 2019.
Why is it important for Chevy?

The Corvette C8 is a significant step up for Chevy and by leaving its roots, the American brand will be able to stay right amongst with the European giants. The big picture is that Chevy will be able to create a supercar which is dynamically competent with its European counterparts while costing considerably less then them. This move sounds commendable, at least on paper, and if it turns out to be as expected, then Chevy might have a crack at the supercar space and most importantly, it will also uplift the brand image, which is not exactly at its best right now. Chevy's fortunes are down, with sales slowing down over the past few years. Taking that into account, the new Corvette is an important car for Chevy's future.
Add Your Comments