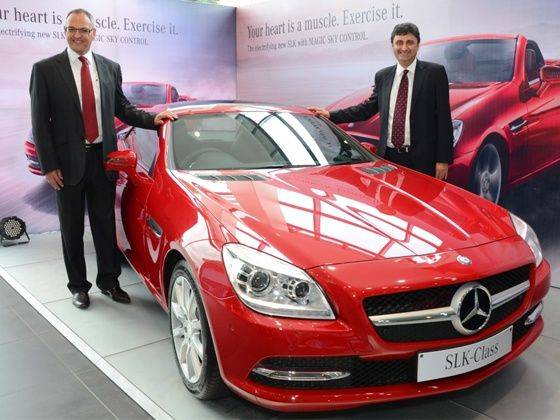 Mercedes-Benz India has inaugurated its 58th dealership, 'Benchmark Cars Rajkot' in the city of Rajkot, Gujarat. The move has been backed by positive demand from the city and specific surrounding areas in the Saurashtra region.
The Mercedes-Benz facility in Rajkot is a 3S facility that is spread over 21,000 sq. ft. and carries an investment of Rs 7 crore. Eberhard Kern, Managing Director and CEO, Mercedes-Benz India who was present at the inauguration of the new facility stated, "2013 has been a very good year for Mercedes-Benz India as we have aggressively launched new products, expanded to new markets and we are confident of maintaining our strong performance for the remaining year. We aim to do sustainable profitable business in India and are here in this market as part of our long-term strategy for India. It is emerging markets like Rajkot that strengthens our belief in the India growth story even more."
The Benchmark cars Rajkot facility was setup in a span of 14 months and is capable of displaying nine cars in the showroom while the service centre is spread over 12,000 sq ft and has six service bays with a capacity of servicing close to six cars a day. The workshop can undertake general repairs and maintenance work with availability of Mercedes-Benz spares and accessories.
Benchmark Cars started as a dealer for Mercedes-Benz in 2009 and currently operates dealerships across six locations (Ahmedabad, Surat, Vadodara, Rajkot, Indore and Kolkata). Over the years Benchmark Cars has won several recognitions from Mercedes-Benz India including Best Customer Satisfaction, Best Service Quality, and Best Service awards in 2011.
Sanjay Thakker, Chairman & Managing Director, Benchmark Cars Rajkot gave an insight into the aspirations of Benchmark Cars Rajkot for the Saurashtra region: "It is a very proud moment for us to set up our sixth dealership with Mercedes-Benz India, and the fourth in Gujarat. Benchmark Cars Rajkot is the largest car showroom in Saurashtra region and also the first one from any luxury car maker in this important market. With the inauguration of this dealership we are now present in all the major markets in Gujarat and we will continue our efforts to better our achievements and reaching out to newer customer base."
Benchmark Cars Rajkot has expanded Mercedes-Benz India's reach to 33 cities across the country. The company is increasingly looking to localise production of its cars in order to boost its cost competitiveness, the company's aggressive approach to gain market share is evident with the launch of six new models in India in the year 2013 including the G63 AMG, the 2013 GL-Class, the A-Class, the 2013 E-Class, the B-Class and the 2013 E63 AMG.
Also read: Locally assembled Mercedes-Benz GL-Class rolls out