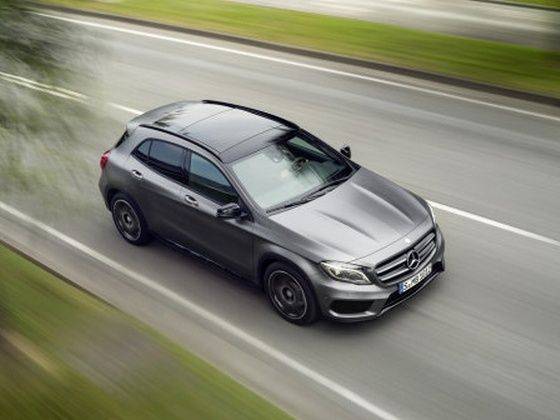 Pictures of the much-awaited Mercedes-Benz GLA-Class compact luxury SUV have finally emerged ahead of its debut at the upcoming 2013 Frankfurt Motor Show. And straight off we can say that the GLA, with its family design cues, is quite a looker!
Based on the A-Class hatchback, the Mercedes-Benz GLA-Class seeks to capitalise on the current global appetite for compact luxury SUVs. The target segment for Mercedes will be young customers with fat wallets when the vehicle launches late 2014.
Featuring the Mercedes-Benz family design language, the new GLA gets a bold grille with the large three-pointed star logo at the centre. The headlights, with daytime running LEDs, too have the familiar sweptback design of recent Mercedes-Benz models. Despite the flared air intakes on the front bumper and slight bulge for a power dome on the bonnet, the GLA's ride height and compact dimensions do give the GLA a more crossover-like stance rather than a proper SUV's. It's a tad too sleek for its own good, perhaps. And the rear of the GLA is identical to the A-Class' apart from the larger tail light cluster and rear air diffuser.
Under the hood the Mercedes-Benz GLA is expected to carry a range of turbocharged four cylinder petrol and diesel engines. As of now Mercedes has announced that the GLA-Class will be powered by a 2.0-litre turbo petrol engine developing 210PS of power and 349Nm of torque. The diesel engine option at least for India is likely to be the four cylinder 2.2 litre unit that does duty in the A-Class, B-Class, C-Class, E-Class and ML-Class in various states of tune.
Both front- and-all-wheel-drive models will likely be on offer. The all-wheel drive models will feature Merc's 4MATIC full-time 4x4 system with different settings for on-road and light off-road driving.
Two-wheel drive models will be available with a six-speed manual gearbox with the option of a seven-speed double clutch automatic gearbox while the all-wheel drive models will feature the seven-speed double autobox as standard.
Inside, the GLA features the usual high quality materials that adorn Mercedes-Benz vehicles; the dashboard in fact has been lifted straight off the A-Class. A choice of different colour combinations for the leather and plastics makes it a lively place. Expect the GLA to come packed with features to meet the demands of today's young car buyers.
Based on strong sales figures of the Audi Q3 and BMW X1, the Mercedes-Benz GLA does look to have a good market potential here provided Mercedes crucially gets the pricing right.
Also read: Locally assembled Mercedes-Benz GL-Class rolls out