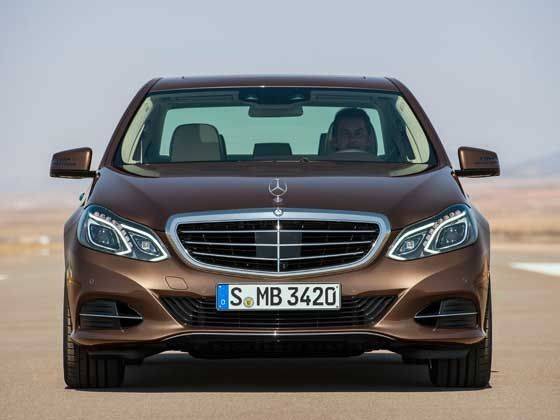 The E-Class has arguably been one of the most competent sedans for the three pointed star selling in large numbers all over the world with India being no exception. The current generation Mercedes-Benz E-class has been in production since 2009 and despite being a rather handsome looking sedan to begin with it has now received a mid-life makeover for the year ahead which extends far beyond its exterior demeanour.
A more modernised look right up front courtesy a new single lens headlight assembly that in keeping with its "four-eyed" look now incorporates daytime running LED lights as standard. The new E-Class will now also be available with two different grilles on the front-end. The first is the traditional classic Saloon grille with a 3-lourve look and a star on the bonnet, while a separate sports car radiator with the central star is now reserved for the sporty Avantgarde line.
The front bumper and the bonnet on the refreshed E-Class have also been fiddled around achieving good results in a very smooth and straightforward manner. The tail lamp assembly is now far more enticing with a new horizontally structured LED tail lights that emphasises the width of the vehicle and would undoubtedly make for a spectacular sight on any night.
The interiors of the updated E-Class have also gotten better with a new two-part trim that stretches across the entire dashboard. The trapezoid-shaped high-gloss framed display in the head unit gets a more flat-frame look with an analogue clock now fitted between the two central air vents, similar to what you'd see inside the larger S-class model series. A re-designed centre console and a new multifunction steering wheel with shift paddles fitted to the auto box versions are among other noteworthy revisions.
Driver assist systems move up to an entirely new level on this car now adding technologies such as Distronic Plus with Steering Assist, which helps a driver, maintain his chosen lane and also track traffic in tailbacks. Both the Saloon and Estate models are fitted with Collision Prevention Assist, a radar-based collision warning system with adaptive brake assist systems.
The Active Lane Keeping Assist can now detect when the adjacent lane is occupied, including detection of oncoming traffic. Active Parking Assist enables automated parking with active steering and brake control in both parallel and end-on spaces.
Where engines are concerned the BlueDIRECT petrol engine family has a new four-cylinder member. The diesel engines in their four and six cylinder tunes now see the addition of a hybrid, namely the E 300 BlueTEC Hybrid, which combines the four-cylinder diesel engine with an electric motor, thereby producing a system output of 231PS and 750 Nm of torque.
Stay tuned for more updates on the new Mercedes-Benz E-Class as it makes its way into dealerships across India in the second or third quarter of 2013.