Mercedes-AMG Unveils 3 Models For Its GT Portfolio
Nov 23, 2016
Views : 7456
---
They are the AMG GT Roadster, AMG GT C Roadster and AMG GT-R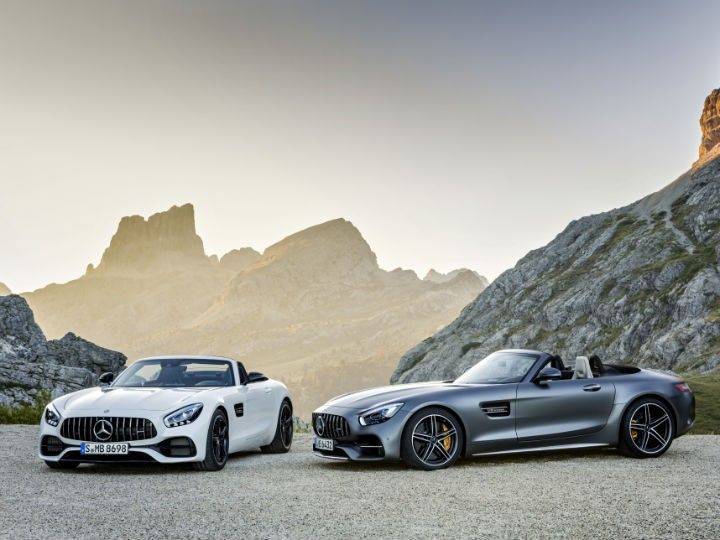 The AMG division of the German car firm, Mercedes-Benz, is renowned to produce cars that are all about performance. Same is the case with the three new products that have been unveiled. But before we get cracking on the cars in question, let's get to know the standard Mercedes-AMG GT. The two-door sports car was a relatively more eco-friendly replacement to the mad Mercedes-Benz SLS. The AMG GT is powered by a more sensible 4.0-litre V8, instead of the V12 that featured in the SLS. The twin-turbochargers bolted to the engine of the AMG GT help reduce the emission levels and keep the power in check as well. While the standard AMG GT produces 462PS of power and 600Nm of torque, the AMG GT S is slightly more powerful with 510PS of power and 650Nm of torque.
Now, though, the Stuttgart-based auto giant has added three new avatars to the AMG GT line-up – the AMG GT Roadster, AMG GT C Roadster and the AMG GT-R. While all the three cars are available to order, they will officially be launched in spring 2017. Just like the standard AMG GT, all the new family members will have the same twin-turbo, 4.0-litre V8 engine, and transmission duties will be handled by a seven-speed AMG SPEEDSHIFT gearbox. That's where the similarities end, at least on the performance front.

As the names suggest, both the AMG GT Roadster and the AMG GT C Roadster are convertible GTs. The real party-piece for both the convertibles is that their roofs can be folded away or retracted back electrically at speeds up to 50kmph. The powerplant under the hood of the AMG GT Roadster is tuned to produce 476PS of power and 630Nm of torque. For the AMG GT C Roadster, however, the engine has been re-tuned to churn out 557PS of power and 680Nm of torque. Based on the power figures alone, the AMG GT Roadster slots itself comfortably between the standard AMG GT and the AMG GT S. On the other hand, the AMG GT C Roadster sits above the AMG GT S.
Lastly, we come to the big daddy of the entire range – the AMG GT-R. Just like the standard GTs, the GT-R is a coupe. However, the engine powering it is tuned to produce 585PS of power and 700Nm of torque. These figures place it above the AMG GT C Roadster. The AMG GT C Roadster and the GT-R boast features like active rear-axle steering and electronically controlled rear-axle limited-slip differential. These additions to the top two variants have been installed to harness and enjoy most of the engine's grunt.