Mercedes "Factory 56" Is Car production At The Bleeding Edge
---
The upcoming facility will be, as claimed, the "world's most modern car production" house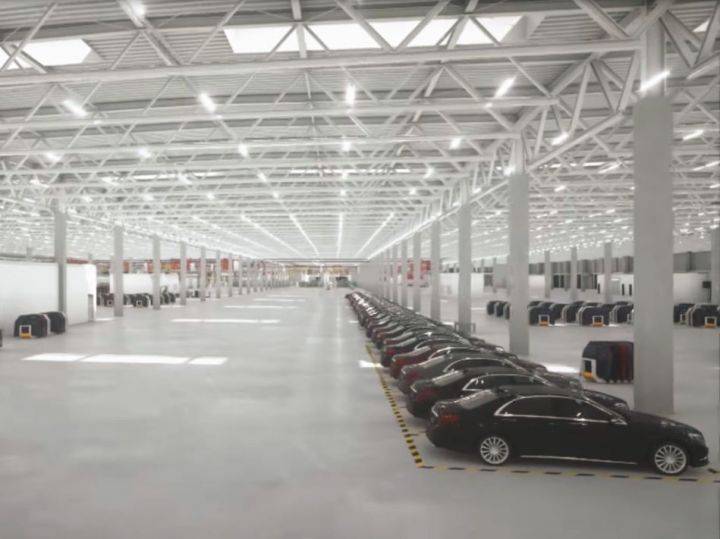 Mercedes-Benz has started construction of its latest car production facility, dubbed "Factory 56." But it's not just your average, run of the mill, clean and high tech facility. It's a production floor that's so on the edge of technology it could very well find a place in Tony Stark's lab. Heck, the launch video shows random circular projection on transparent screens, touchscreen command panels and even someone taking a closer look at a rendered 3D model of the shell of the car on a giant-ass touchscreen.

Mercedes says it will be reinventing car production with the Factory 56. This new production facility is based on three key principles: digital, flexible and green. The facility will have driverless transport systems (DTS) with product baskets which will automatically supply the required materials for the employees at the assembly line. Components and vehicles can be digitally tracked and linked with one another via Radio Frequency Identification-technologies (RFID). Artificial intelligence, big data analyses and predictive maintenance techniques will guarantee high transparency and support in production planning, control and quality assurance. And through this analysis, predictions on potential faults or due maintenance work can be made in advance.

Now, moving on to the "green" bit. The Factory 56 will have a photovoltaic system on the roof which will produce about 5,000 MWh of electricity annually. This will also result in the CO2 emissions being reduced by around 75 per cent as compared to today's S-Class production in the Sindelfingen plant.
Factory 56 will become operational in 2020 and will manufacturer S-Class models and electric vehicles of the upper and luxury class. This includes the first electric EQ model as well. The factory area will cover 220,000sq metres, the size of roughly 30 football fields, making it the third largest construction project in Germany ever. The ground-breaking of the Factory 56 took place on 20th February, and the first model is expected to come out in 2020.