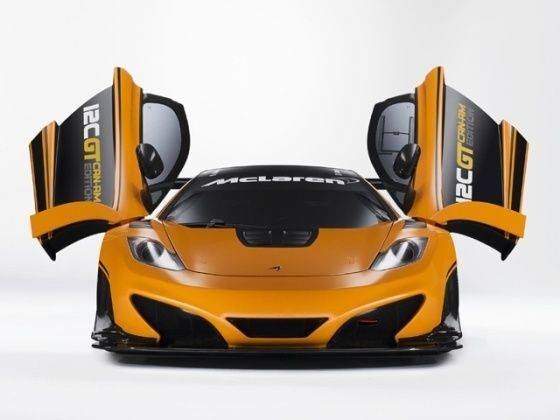 British race car manufacturer McLaren GT has confirmed that in March 2012 it will begin a limited production run of just 30 12C GT Can-Am Edition racing cars at the McLaren Technology Centre (MTC) in Woking, Southern England.
Andrew Kirkaldy, Managing Director of McLaren GT explained, "The 12C Can-Am Edition concept shown at Pebble Beach earlier this year was purely that, a one-off design study. However, the reaction and response following the unveiling was remarkable. It is a real testament to the performance and results of the McLaren GT customer teams this year, still only in the debut competitive season, that there is such a strong demand for this type of track day special."
The 12C GT Can-Am Edition is based on the 12C GT3 racing car that has been homologated for the FIA GT3 European Championship. The Can-Am version however is an unrestricted race car that generates 638PS of power, which makes it the most powerful version of the MP4-12C supercar yet.
The Can-Am stands for the Canadian-American (Can-Am) Challenge Cup race series held from 1966 to 1986, governed under the FIA Group 7 category with unrestricted engine capacity and few technical restrictions.
Slideshow:
The 12 GT Can-Am Edition pays tribute to a series of McLaren models driven by Bruce McLaren and Denny Hulme in the Can-Am series. They claimed a string of championships for Bruce McLaren Racing.
The 12C GT Can-Am Edition can be distinguished from the 12C GT3 race car largely by the black roof and massive carbon-fibre rear spoiler. Other changes include outside rear-view mirror mounts and covers, side radiator intake vents, engine cover vents, sill covers, badges and the black satin finished forged lightweight racing alloy wheels. The aerodynamic package increases downforce at high speeds by a staggering 30 per cent.
The 12C GT Can-Am features McLaren's 3.8-litre twin turbocharged V8 engine from the production MP4-12C and MP4-12C Spider as well as the supercar's carbon fibre MonoCell chassis. The racing car features a unique engine calibration and optimised cooling system to deal with the added power. The 12C GT Can-Am version of course gets a full FIA approved race specification rollcage.
Inside, there are Recaro racing seats with six-point race harnesses, the bespoke racing steering wheel from the 12C GT3 race car and an integrated motorsport air-conditioning system.
As an unrestricted racing car the 12C GT Can-Am Edition has been billed as the 'ultimate track car' by McLaren. And judging by the astounding driving characteristics of the road going versions, the McLaren 12C GT Can-Am will undoubtedly be very capable on the track.
Priced at £ 375,000 (Rs 3.28 crore), the 12C GT Can-Am Edition will be available to customer teams who will benefit from bespoke support packages from McLaren.
Also read: McLaren sells its first batch of twenty MP4-12C GT3 race cars
Slideshow: