Maserati's Project Rekall Concept Looks Perfect For A Retro Cyberpunk Cameo
Nov 23, 2020
Views : 2128
---
Based on the Shamal coupe, it's a nice little throwback to the nineties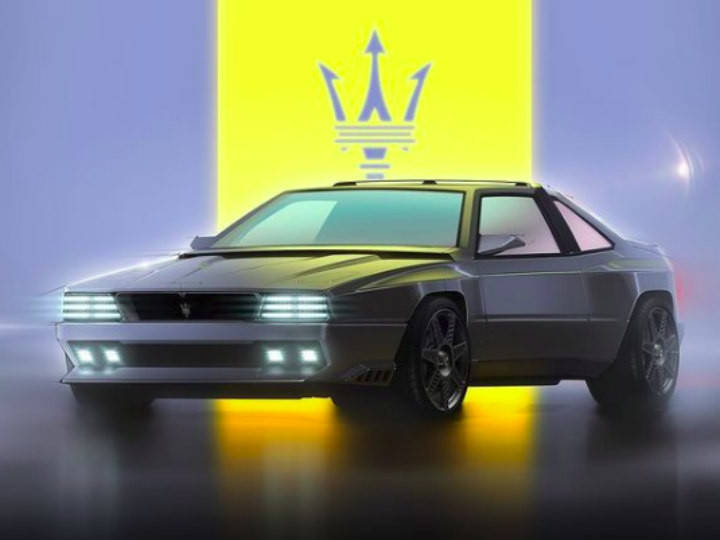 Is similar in design to the Shamal aside from sportier bumpers, new wheels, a roof spoiler and modern lighting.

Cabin highlights include a retro-themed digital instrument cluster and sporty bucket seats.

Technical details haven't been revealed, but cabin renders hint at a manual gearbox.
When it comes to carmakers revealing concept car designs, most of them are pretty radical and rarely make it into production. Rather, these concept models are simply used as an inspiration for their future models. But Maserati's latest contraption certainly looks cool and realistic enough to be put into production. Called the Project Rekall, it's based on the Maserati Shamal coupe from the nineties, and it looks like something straight out of cyberpunk lore.

The overall silhouette looks similar to the Shamal, with boxy proportions and what interestingly looks like a spoiler just below the front windshield. But Maserati has added a few futuristic tweaks in the form of an aggressive bonnet, sportier bumper and modern headlights. The modern additions also include star-themed wheels, a roof-mounted spoiler, and stylish exhausts. Overall a nice combination of the 90's theme and modern tweaks.

Also Read:
Heading inside, the Project Recall concept retains the majority of the Shamal's simplistic cabin, but continues its futuristic add-ons. The most notable one is an all-digital instrument cluster that looks like a Atari console's user interface for that nostalgic factor. It also features bucket seats and if you look closer, gold plating on the throttle pedal.

While technical details are yet to be revealed, the cabin render reveals a manual gearbox, which is no surprise considering the Shamal was paired to a 6-speed manual. The Shamal itself was no slouch as it was powered by a 3.2-litre twin-turbo V8 that put out 326PS and 431Nm. It also produced a pretty decent top speed at 270kmph.
Maserati's Project Rekall concept provides a fine balance between a 90s retro theme with a bit of futuristic flair. But will this concept become a reality? It is difficult to tell at this point but we hope it happens.
Also Read: