Maserati to attempt Cadiz-San Salvador speed record
Jan 26, 2012
Views : 4171
---
Maserati and Giovanni Soldini prepare for attempt at Cadiz-San Salvador speed record (3884 miles) crossing the North Atlantic with a 7-man crew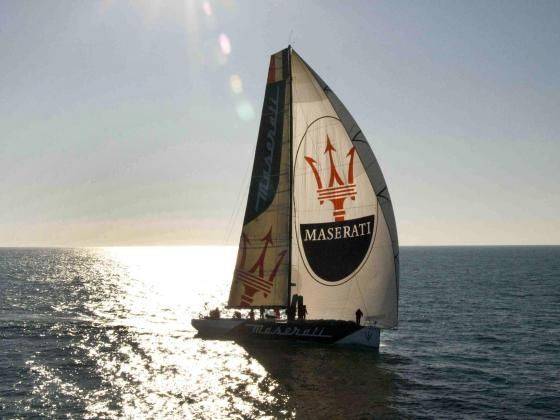 Maserati and Giovanni Soldini, an Italian sailor will be attempting to establish a new speed record over 3884 miles on the North Atlantic. From early February Soldini and a crew of seven will be engaged in seeking to become the new record holders between Cadiz (Spain) and San Salvador (Bahamas) on board Maserati, a VOR 70 monohull which has been completely overhauled.
Skipper Soldini and the 7 capable yachtsmen have a past track record in open ocean-going regattas and in competitions such as the America's Cup. German Boris Herrmann (navigator), American Brad Van Liew (watch leader) and Spaniard David Vera (watch leader) will make up a team completed by four Italians: Gabriele Olivo (trimmer), Guido Broggi (boat captain), Gerardo Siciliano (second bowman), and Corrado Rossignoli (first bowman).
The record for the Cadiz-San Salvador run which is 3884 miles long, is monitored by the World Sailing Speed Record Council, the international body that gives official status to the fastest sailing times along the historical routes once plied by clippers. Only maxi trimarans have sailed across this route before: Maserati will be the first monohull attempting to establish the record in its category.
"The challenge is a demanding one, given the length and the difficulty of the route," explains Soldini. "In the first half of the journey our concern is the area of high pressure that could potentially block our path near the Azores. During the second half, the difficulties could be the fronts and depressions which, if too low, will slow the boat down. Nevertheless, I am sure it will be a fantastic experience and I am delighted with the entire crew."
Backing for this challenge is provided by Maserati, the main partner in the endeavour, which gives its name to the boat. It is flanked by the Swiss bank BSI (Generali Group), and by Generali, which features in the capacity of co-sponsor. The official suppliers to the undertaking are: Vodafone Italia, Murphy&Nye, Bulgari (the official time keeper) and Boero Bartolomeo S.p.A.
Live coverage of the yachting ventures of Maserati will be available from the new Giovanni Soldini-Maserati website, www.maserati.soldini.it, which will go live in a matter of days. The website will feature news, video footage and photos directly from the boat, as well as reports on the meteorological conditions and live updates on the position and the speed of Maserati.
Constant updates on the three record attempts, as well as on the movements between the regatta locations and the onshore preparatory work will also feature on facebook, twitter and youtube, linked to the home page of the website.