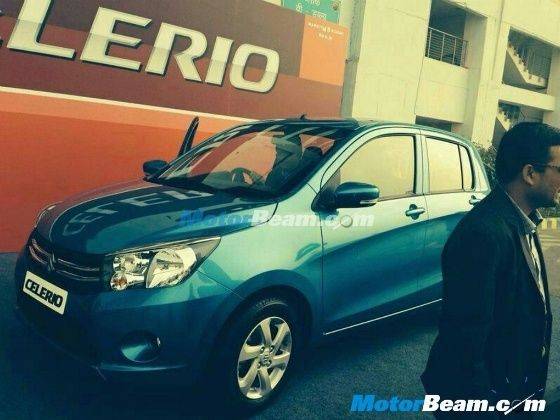 A few days ago, we revealed all the details on the all-new compact hatchback from Maruti-Suzuki, the Celerio. The 2014 Maruti-Suzuki Celerio, will be priced somewhere around the Rs 4-lakh mark and will feature the same 1.0-litre engine from the likes of the Alto K10 and the WagonR but with a few upgrades. The 2014 Maruti-Suzuki will also feature the new AMT (Automatic Manual Transmission), which mimics an automatic transmission but uses a conventional manual transmission at the same time. The Celerio will soon replace the aging Zen Estilo and the non-performing Maruti-Suzuki A-Star and will be available in four variants, LXi, VXi, ZXi and ZXi with ABS.
Maruti-Suzuki will also be showcasing a city centric SUV concept at the show. The concept called iV-4 was first shown to the public at the 2013 Frankfurt Auto Expo. Considering that the dimensions of the Suzuki iV-4 concept have been measured at 4,215mm in overall length, 1,855mm in overall width, 1,665mm in height with a wheelbase of 2,500mm the compact SUV will have to be slightly altered in design to measure in under-4 metres in length for the Indian market to avail of tax benefits. The iV-4 can also be the general showcase on how the production ready SUV which Maruti-Suzuki intends to launch by the end of 2014 will look like both in terms of dimensions and in terms of design elements.
Maruti will also showcase the YL1 concept, which will in turn replace the SX4 in the year to come. The YL1 should see production sometime mid-2014 and will be available in both diesel and petrol options.
Apart from the above, Maruti-Suzuki will bring its usual plethora of large-wheeled blingy concept cars based on their current range. We also expect the facelifted 2014 Maruti-Suzuki Swift to make an appearance at the 2014 Indian Auto Expo. The facelifted Swift features an upgraded interior and a set of new LED daytime running lights integrated into the bumper. The new 2014 Suzuki Swift will also include a set of updated headlights, tail lights and a new grille and bumper package.