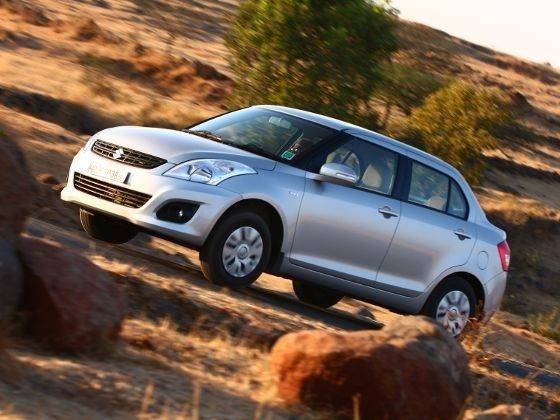 Now who could have conceived this -- of the Swift DZire compact sedan beating its hatchback sibling the Swift on sales? But that's exactly what has happened when in April 2013 Maruti sold 19,446 units of the sub four meter sedan -- 2,916 units more than sales of the Swift hatchback during the same period.
What's more, the DZire's sales were just 401 units less than the country's bestselling car, the Maruti Suzuki Alto 800, which racked up a sales figure of 19,847 units during April 2013. This officially means that Maruti Suzuki's compact sedan is now the second highest selling car in India. In all, the company sold over 2 lakh units of the current Swift DZire since its launch in February 2012.
As we know, the Indian customer has always had a soft spot for the three box sedan that in their minds plays the prestige card. And the introduction of Maruti Suzuki's new DZire sub four meter compact sedan with a lower price tag and a choice of diesel and petrol engines made a strong case for itself for itself, something that has now been proven on the sales charts.
Mayank Pareek Maruti Suzuki COO (marketing & sales) was quoted by ET saying, "When we conceived DZire, few years back it was thought as a complete package of a sedan coming at the price of a hatchback."
The DZire's strong sales comes as a surprise especially since it all happened in the same month as the launch of its biggest rival yet, the Honda Amaze. Armed with Honda's strong reliability and quality levels, the Amaze has been considered as a serious threat to the Swift DZire.
The Honda Amaze has not had the time to prove its place on the sales charts just yet, but can the overwhelming demand for the Maruti Suzuki Swift DZire be considered an indication of the times to come?
Sure, Honda cannot match the sheer presence of Maruti Suzuki's sales and after sales network throughout the length and breadth of the country but the Honda is just as good a car, if not better.
As for the sales charts, the compact sedan segment looks to be on the way for bigger success in the future with vehicles that offer comfort, style and practicality in an affordable, economical and easily manoeuvrable package that is indeed very attractive on our ever crowded roads.
Also read: Honda Amaze diesel vs Maruti Suzuki Swift DZire diesel : Comparison