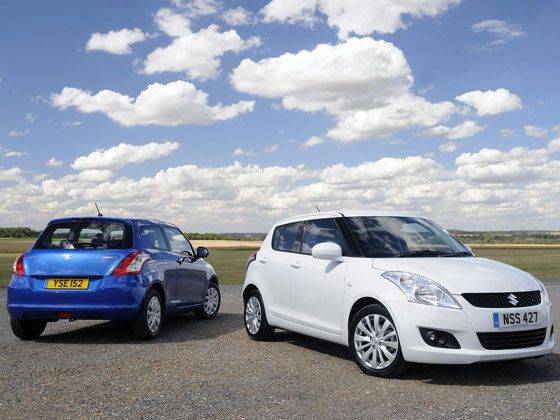 Good news for petrolheads! Maruti Suzuki is considering a Swift Sport for the Indian market. But don't jump off your seat yet. The real deal – the Swift Sport with the M16A 1.6-litre, 135PS petrol engine – may still not make it here as import duties will make it as expensive as a BMW X1! What you may get instead is a Swift Sport with a 1.4-litre petrol engine from the Ertiga MPV or, if Maruti decides to be more generous, a Swift Sport with a 1.6-litre engine from the SX4.
With the Swift Sport, Maruti Suzuki will look to target the 'semi hot hatchback' segment consisting of the Volkswagen Polo 1.6 and the Skoda Fabia 1.6. Both vehicles have the same engine that produces 105PS of power and 153Nm of torque. And like its competition the Maruti Suzuki Swift Sport will be a five-door hatchback, the Suzuki Swift Sport is a three-door hatchback.
A Swift Sport with the 1.6 litre engine from the SX4 that develops 104PS of power and 145Nm of torque makes for a lip-smacking prospect. However, rumours inside Maruti suggest that the Swift Sport may well end up with the 1.4-litre engine. But if Maruti is serious about taking on the Swift Sport's rivals, then power output will have to be at par with them. Tuning the 1.4 engine to generate in excess of 100PS of power could involve higher costs than installing the 1.6 SX4 unit.
Apart from the engine upgrade the Maruti Suzuki Swift Sport is also likely to get a body kit, stiffer suspension, bigger brakes, a Traction Control System (TCS) and cosmetic tweaks to distinguish it from its 1.2 sibling. Enthusiasts in India have been praying for a hot Swift since the first Swift Sport was born. Needless to say, the current speculation will stir up excitement among petrolheads.
May we also suggest bestowing rear disc brakes, appropriate cosmetic tweaks (not just cheap stickers) and a decent body kit (not like the one on the SX4, that looks like an aftermarket job).
Pricing of the Swift Sport will need to be competitive to ensure supremacy over the Polo 1.6 and the Fabia 1.6. In our opinion, a price of Rs 7-8 lakh would be just right.