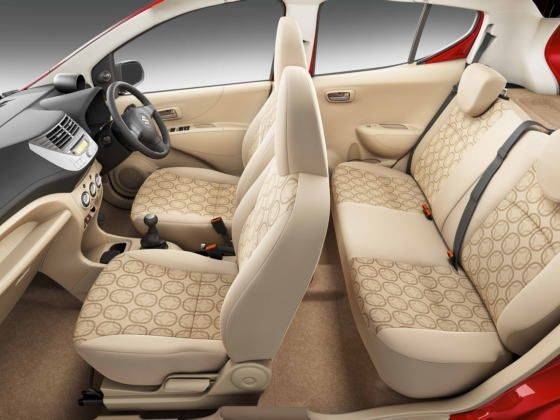 New Interiors with 50-50 split seats
The personality of the Maruti Suzuki A-star on the outside is a cute and cheeky one, bouncy to an extent yet very peppy. The interiors rather matched a more serious persona, which it clearly did not possess. Thus, Maruti Suzuki upon realizing this problem adorned the A-star with `grey and beige' cloth seat covers, making the stars interiors' a much fresher place to be in. The interior and exterior of the car now also complement each other's visual presence on an added harmonious level.
New rims and new spoiler



The new 50:50 ratio-separated rear folding seats are a new addition to the interior functionality of the A-star, making life easier for those who would like to access the boot via the seat resulting in an uninterrupted journey. Also storage capacity increases when a longer object has to be placed inside the car to be transported by folding one half of the rear seat giving ample room for an adult to sit on the other half of the seat.


The exterior look of the star is now complemented by a new wheel rim design and a rear spoiler that is situated on top of boot lid making the small car look fuller and complete from all angles. All this in turn makes it the perfect package for a buyer who would like the options of style, fuel efficiency along with an optional automatic gearbox and a peppy engine to match its personality. This coupled with the great after-sales service that Maruti-Suzuki cars enjoy, making this car even more desirable.


Better safety is offered on the A-star as dual Airbags and ABS are available as an option for customers. To complement the refreshed interiors of the A-Star, the company is also offering new colours like the Pearl Caffeine Brown and Metallic Glistening Grey in addition to the previous range of colours that are already on sale.

Price
Variant

LXi

VXi

VXi AT

ZXi *

ZXi (optional)

(with ABS and Airbags)

Price (Rupees

Ex showroom Delhi)

3,66,618

,397,268

4,47,175

4,22,250

440,503