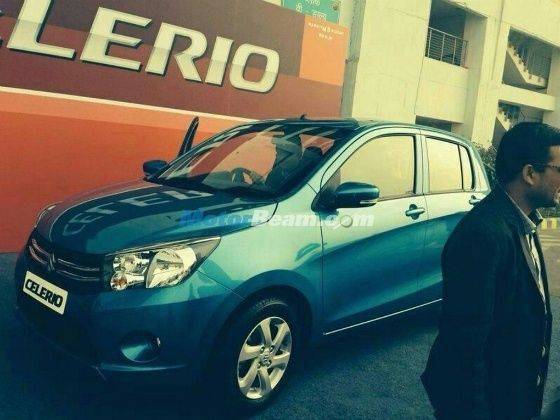 The Maruti Celerio has created quite a stir even before it's unveiling and capitalizing on the buzz around the car. Maruti has started accepting bookings for the same at Rs 10,000. The car hasn't reached the showrooms yet but once it is unveiled at the Auto Expo, it will be on display at all the Maruti showrooms towards the end of next week. We know one may think, what if the car does not lives upto the expectations? Worry not, the dealers will return your booking amount after deducting a small processing fee since you haven't seen the car in flesh.

Maruti is known to build a large lot of cars prior to its launch so that it can flood the market with as many new cars as possible. They believe in the publicity gained by word of mouth concept. So more cars on the road means more owners to speak about their new car. According to dealers a large number of enquiries are already pouring in and the booking numbers are expected to be on a high.
The Celerio will replace the void left in the Maruti small car line-up by the A-Star and Estilo. It is a 100 mm longer than the A-star and has a longer wheelbase addressing to the space constraints in the A-star (its biggest drawback). It is powered by the same 998cc all-aluminium three-cylinder petrol engine doing its duty in the Wagon R. It develops a max power output of 68PS at 6000rpm and a peak torque of 90Nm at 3500rpm.

A significant addition to the Celerio is the Automated Manual Transmission - first of its kind on any car sold in India. The AMT, termed EZ drive by Maruti, is basically a clutchless manual gearbox that promises to be as efficient as the standard 5-speed manual gearbox and only marginally costlier. Automatics till now have been considerably expensive than their manual counterpart but this scenario will be changed with the AMT, as the shifting of gears is done by the driver while the clutch engages and disengages automatically. This partial automation reduces the cost of the gearbox.

The Celerio will be offered in four trim levels – Lxi, VXi, ZXi and a ZXi with option pack (two airbags).