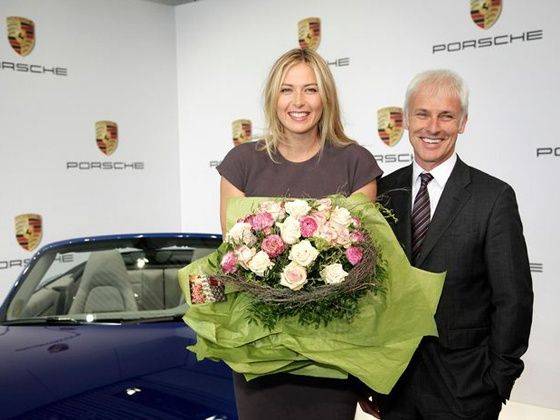 She's the reason most of us even tune into women's tennis. Agreed most petrol heads would rather floor the pedal of a Porsche down the open road, but the thought of Maria Sharapova standing beside or sitting inside one every single time the Zuffenhausen based sports car maker chooses to promote itself from here on is indeed an exciting thought.
As the newly appointed brand ambassador for Porsche AG, Sharapova will be representing the sports car manufacturer for the next three years and be the face of their global communications campaign.
As last year's winner of the Porsche Tennis Grand Prix in Stuttgart, Sharapova was presented a white 911 Carrera S Cabriolet, and now by choosing her as their new brand ambassador Porsche will extend its long-term commitment to women´s tennis.
Excited about her new association with Porsche, Sharapova said, "This is a really special day for me. I have had the privilege to be associated with some of the best brands in the world, but now to be partners with Porsche, is such an amazing honour."
Pleased at the 26-year-old tennis stars association with the brand, Matthias Mueller, CEO of Porsche AG, said "Maria Sharapova is an exceptional athlete. She combines top performance in her sports with elegance and power. These are precisely the qualities that are embroiled in our sports cars."
To date, Maria Sharapova has won a total of 28 singles titles, including last year´s Porsche Tennis Grand Prix in Stuttgart, the WTA Championships in 2004, and the silver medal at the 2012 Olympic Games in London.
She won her first Grand Slam tournament at Wimbledon at the age of 17 becoming the third-youngest player to ever do so. This feat was followed by titles in the other three Grand Slam tournaments: U.S. Open 2006, Australian Open 2008, and French Open 2012.
Photo Courtesy : mariasharapova.com