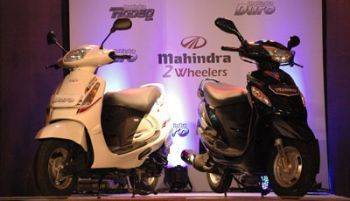 What is most heartening about this result was that it wasn't a planned event or even a factory effort but the initiative of long time Brazilian motoring enthusiast Ricardo Augusto de Souza Campos, better known in the South American motor sport fraternity simply as Rasc.
Rasc wanted to do something different with his 16-year old son RASC Campos, better known himself as Rasquinho, and so he purchased a Mahindra pick-up from Govesa Mahindra, the firm's dealer in Brasilia. A veteran of over 25 years of motor sport in Brazil, he has seen action not just in circuit racing (where we was Brazilian champion in the Speed 1600 series) but since 1990 had turned his hand to rallies, taking part in the tough Brazilian events in all forms of machinery, latterly trucks. Rasc founded the Jeep Club of Brasilia (his home town) and so it was not lost on him that Mahindra vehicles have descended from this great brand. The Rally dos Sertoes was the one event where success had eluded him in conventional vehicles and so this year he decided to attempt the unthinkable with a vehicle which was largely simple yet unproven in competition.
Govesa Mahindra helped Rasc with service support and the makings of this effort saw Mahindra by Bramont step in with sponsorship. The Rally dos Sertoes is one of the toughest events in the world, second its said after the mighty Dakar (run this year in South America if you'd care to recollect) and this year it was run over 11 days, the first and the last were promotional super specials. The 5045 km long event featured a total of 2605km of competitive stages between Goiania and Natal. A total of 128 vehicles took the start and among them were 66 cars and seven trucks while the rest were motorcycles and quads.
How the rally progressed
In this demanding event run across Brazilian jungles and swampy terrain, Rasc and his son Rasquinho had entered their Mahindra single cab pick-up in the T2 category for production cars and pick-ups. Ranged against them were 25 other rivals in class driving Ford, Chevrolet, Mitsubishi and Troller (a Ford brand in South America) vehicles. The father son-duo did extremely well when one considers that only 29 of the 66 cars and pick-ups completed the grueling event and they not just finished 22nd overall but also third in the T2 category. This was almost akin to David slaying Goliath for the well funded entries from the other makers also had years of competition experience whereas this was the first time a Mahindra pick-up had ever been entered!
It was a result which stumped everyone in the event but then Rasc and Rasquinho were counting on the rugged build of the Mahindra to counter the firepower of the competition from Japan and the U.S. The vehicle was prepared almost entirely to stock standard specifications apart from the mandatory safety and structural modifications demanded by the regulations. An FIA safety roll-cage was fitted as were special rally seats. There was a snorkel air intake, a sump and transmission guard, a plastic windshield, electrical safety gear plus also a full complement of navigation and rally aids along with radio and GPS systems. The chassis was strengthened at key points as demanded by the regulations and the only change from the standard spec was the fitment of rally shock absorbers which the T2 regs permitted. There was also a larger 220-litre fuel tank mounted in the load bed and overall the turnout of the vehicle was resplendent in its red and white livery. Maybe with this result, expect Mahindra by Bramont to think about an entry in the 2010 edition of the Dakar in January! It just could be the first ever Indian vehicle ever in a world championship rally raid!
MAHINDRA BY BRAMONT
Mahindra vehicles are assembled in a special facility in the city of Manaus located in the north of Brazil. Its partner in this Brazilian venture is Bramont and the company is known in this south American nation as Mahindra by Bramont. It began operations in 2006 but its first products only began rolling out of its 100,000 sq. metre facility in May 2008. At present it assembles the Mahindra SUV, double cab pick-up and also the single cab pick-up. To date over 500 numbers have been assembled and sold in Brazil but with a whole new expansion programme underway, the firm hopes to have an installed capacity of 5000 units per annum working on a single shift basis. The firm employs 200 people and Mahindra Automotive provides all the technical support, production processes and quality inputs.