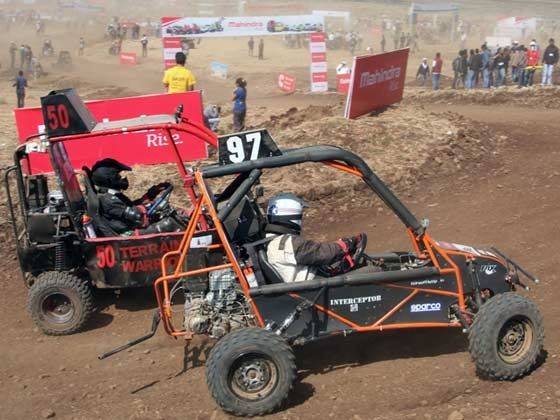 105 open wheeled cars, over 2500 petrol-headed engineering students and enough adrenalin to jump from the moon, that pretty much gave an idea about the atmosphere in Indore during the 2013 iteration of the BAJA SAE India. Pithampur, a small town on the outskirts of Indore, MP was ready for one of the grandest stage to showcase their creations. A yearlong effort into designing, analysing, fabricating, testing and in case something goes wrong, a bit of jugaad too; all of which culminated into a 4-day long competition to determine the numero uno engineering college of India.
Since its inception in 2007, this event has grown from a mere 27 team event to a whopping 262 team mega-event. The entire process starts in the month of March where the colleges start forming a team of a maximum of 25 members dedicated to do just one thing, design and engineer a single seat ATV which will simply knock the heels off the competition. The 250+ teams are allowed to showcase their designs and give enough data along with it to validate its safety and performance at the Virtual BAJA event. Here the shortlisting begins and this year the number of teams was upped to 120 who were given the approval to build their vehicles. The maximum teams this year came from Pune. The motoring capital of India spawned as many as 16 teams. September to January, i.e. a period of 5 months is allotted for the completion of the vehicle shortlisted for college level scrutiny in order to check whether the vehicle is safe and meets all the regulations specified while the D-days rather the four day mega-event is planned during the second weekend of February.
The first day starts with an even detailed safety check in order to proceed any further. Engine settings, vehicle dimensions, fluid leakages check, safety gear, weight, steering abilities and finally the most important brake test are carried out. In fact the tests are so stringent that the first day saw only 6 teams clearing all the mentioned tests. The second day began with the remaining teams clearing the inspection and once done they move on to static events where vehicle designs, costings and marketability are evaluated.
The teams which get their static events clear with time to spare in the day move onto the dynamic events which saw just a handful of 10 teams attempting the acceleration patch where the quickest car in a dirt strip of 150 feet is declared the winner and only 3 teams which were all Pune, took on the hill climb event where the vehicles had to climb up another 150 feet with a gradient of 25 degrees. The next day commences with all the technically cleared teams expected to clear their static as well as the dynamic events including an additional one which is the most difficult of them all – the manoeuvrability test. Here the vehicles are made to take on obstacles like opposite banking turns, ditches, sand pits, dirt mounds, slush and finally logs of wood. The ones who are through with all these events are then allowed to get a feel of what they would be experiencing to the next day – the endurance track.
:
The most anticipated, gruelling and fearsome race what ultimately decides the eventual fate of the teams and their buggies takes place on the fourth and final day and lasts for an enduring 3hours. As the name states, endurance and sustainability is the key for both the man and machine. The start line grid is decided by the acceleration test results. On pole position, for the second year in succession, were College of Engineering Pune followed by Shri G.S. Institute of Science and Tech, Indore in second and Sinhgad Academy of Engineering, Pune in third. The competition is cut-throat with the first and the third vehicle separated by a miniscule 0.17s. The defending race winners, AISSMS College of Engineering, Pune looked lost with clutch problems affecting their acceleration.
Even the ever consistent PESMCOE, were hampered with shifting problems and started on the third row of the pyramidal grid. The start of the race saw College of Engineering Pune pull away from the entire field whereas SHRI G.S. INSTITUTE OF SCIENCE AND TECH and Sinhgad Academy of Engineering dropped a few places. But the real gainers were AISSMS, PESMCOE and rookies Sinhgad College of Engineering, Pune who quickly got into the top 15. AISSMS, with their professional VW Polo Cup driver Oshan Kothadiya behind the wheel, comfortably made places upto 8th spot after which disaster struck as the rose joints from their front suspension sheared off thereby forcing them to head out into repair mode (View : Mahindra SAE India Baja 2013 teams).
The race positions remained steady till the expected pit-stop window opened and here team strategy came into play. The top running teams sought to come into the pits with just 30-35 mins into the race so as to play it safe, but a few bold ones like Sinhgad Academy of Engineering who were way back in 9th position came in at almost an hour into the race pitted and gained places and were back into contention in 4th place.
But here's where the actual disaster struck for most of the teams and it plagued the front-runners too. Sinhgad Academy of Engineering were just about to gain third spot when a backmarker decided to slow down thereby hampering Sinhgad Academy of Engineering's progress as well. The driver, Aditya Nalawade, tried everything in his might to minimise the eventual damage but to no avail. PESMCOE driver, Tanmay Ugale, also faced a similar problem where as he was overtaking another backmarker, who tried to block his path thinking of him as a potential race position fighter with the two making contact this damaging PESMCOE's car. Quick and calm thinking got them back into the race but they lost a huge chunk of time in repairs.
:
With three of the most competitive Pune colleges suffering setbacks, it was just upto College of Engineering Pune to salvage Pune's pride and their driver Gaurav Mehta didn't disappoint. They had a comfortable lead and ended up lapping each and every car at least twice. But with just 5 minutes left into the race they were forced by the marshalls to stop due to a certain use of driver communication system which apparently infringed with the rules. Despite that they were cleared off and they won the race with a huge margin of over a lap over Jodhpur National University. The rookies in the event Sinhgad College of Engineering finished in the top 10 and even the first-timer all girls team from Cummins College of Engineering, Pune finished 13th.
"This was my third BAJA race that I drove in and out of the 3 this was definitely the fastest one. My initial start strategy of maintaining my race lead worked and hence kept a steady pace and stayed out of trouble throughout the entire race", the race winning driver Gaurav says. College of Engineering Pune not only won the race but were crowned the overall champions of the year. Captain Shrirang Puranik's joy knew no bounds. He said, "To win Rs. 8.6 lakhs is no simple feat but still we managed it with our brilliant team. It was a complete team effort and has been a two year long process. We learnt a lot from participating at South Africa and sorted out the glitches which occurred there."
PESMCOE driver, Tanmay Ugale, managed to drag his car into the top 15 alongwith Sinhgad Academy of Engineering's Aditya. "To come with an almost entirely new team was a real challenge but the boys kept pushing me on. I had an uneventful start and was up and running in 3rd when a backmarker took us out forcing an hour of our time. Despite that we repaired the car and got back into the race completed 28 laps overall and we are happy to be in the top 10 overall standings and 3rd in hill climb which is our forte", says Tanmay. AISSMS's Oshan Kothadiya had managed to sort out his suspension niggle only to have it hamper him within another hour of running (View : Mahindra SAE India Baja 2013 teams).
Oshan said, "This year's vehicle the RR06 was better in the corners and had tremendous potential in the race but due to the continuous rose joint issue we were forced to retire with 10 minutes to spare." Aditya too had the similar opinions, "I made a bad start and dropped down a few place into 7th or 8th and struggled to pass them initially. Then due to a calculated fuel stop I got myself back into contention and was on course to fight for the podium and might have been even for the win. Then as I was about to make a move to get the third place a backmarker came out of nowhere slowed right down in my path and I tried whatever I could to prevent a huge accident. We lost a huge chunk of time there and with half hour left my clutch cable also snapped. I was forced to shift without the clutch which meant losing bit of time per lap."
:
Their chief race strategist, Jehan Darukhanawala, who infact is an IT engineer, said, "To have built a fast car capable of beating all teams only to be taken out by a non-contender was sad. But leaving that aside Aditya drove superbly and bagged us the award of the second fastest car and Surendra, our second driver, also managed to get us 3rd on the grid. We came out here to win the event and my captain Suraj Monga and the entire team gave everything in our might towards that goal."
"Didn't happen this year but there's always the next year and continue our great momentum into 2015 when this very event goes International. This was not possible without our sponsors Polaris, Mahindra & Mahindra, Monga Strayfields and our college for fundings and parts necessary." When asked what the agenda will be now that the event is over he jokingly says, "Go back to Pune and start completing lagging assignments and journals in order to keep the parents and the professors also happy." Sincerely hoping that they are (View : Mahindra SAE India Baja 2013 teams).
: