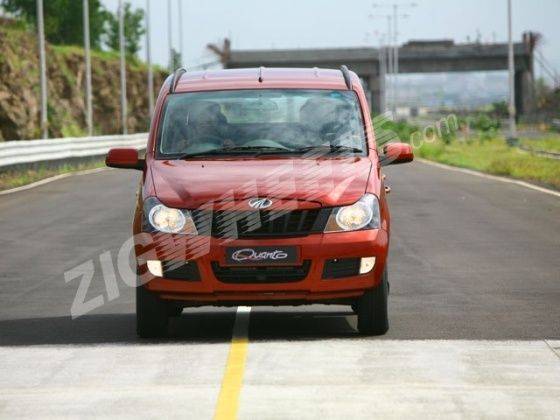 The much awaited compact MPV Mahindra Quanto is about to be launched today. And with it Mahindra will kick off the compact MPV segment in India.
Expected to be priced under Rs. 6 lakh (or even lower) for the entry level variant, the Quanto is a seven-seater MPV that slots in under the 4 meter length mark. The seating layout is two at the front, three in the middle and two jump seats in the back.
The Quanto shares a lot of its components and panels such as doors, bonnet, tailgate, dashboard, suspension components and interiors with the Xylo. Mahindra has done a good job with the styling as can be seen from the spy pictures and it would be safe to say that the Quanto is a good looking vehicle. The spare wheel which is now mounted on the tailgate gives the car an appeal similar to that of a small SUV..
With its attractive styling and practicality the Quanto should make for an appealing value for money proposition in our market.
Mahindra will be launching the Quanto in the next hour! Stay tuned to ZigWheels and our social media platforms for first pictures, technical specifications and lots more.
Related Mahindra Quanto Stories
Mahindra Quanto : Special Coverage
In Conversation: Anand Mahindra on M&M's automotive aspirations
Mahindra Quanto : ZigWheels First Drive Photos (Action)
Mahindra Quanto : ZigWheels First Drive Photos (Exterior)
Mahindra Quanto : ZigWheels First Drive Photos (Interior)
Mahindra Quanto : ZigWheels First Drive Video