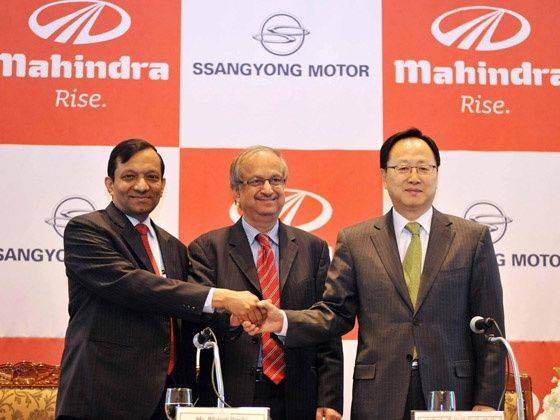 Left to Right: Dr. Pawan Goenka, President, Automotive and Farm Equipment Sectors,
Mahindra & Mahindra Ltd., Mr. Mr. Bharat Doshi, Executive Director & Group CFO, Mahindra &
Mahindra Ltd. and Mr. Yoo-il Lee, CEO, SsangYong Motor Company at the press conference in Seoul, Korea
It's been almost eight months since India's Mahindra & Mahindra Ltd. (M&M) signed its memorandum of understanding (MoU) with SUV maker Ssangyong Motors. A few months later, the two companies came to a definitive consensus and Mahindra's acquisition of the financially troubled Korean brand was made public sometime around November last year.
Now, with all legal and administrative formalities having been fulfilled between the utility vehicle manufacturing duo, the Mahindra Group has now finally completed its acquisition of Ssangyong Motors for a massive Rs. 2,108 crore.
This marks the beginning of a new journey for SYMC and will also pave the way for both Mahindra and SYMC to emerge as a strong force allied together in the global passenger vehicle industry, through their strategic partnership.
With Ssangyong's rich legacy of R&D and innovation now at its disposal, M & M has revealed some of its immediate plans for the future of the company, which include new car development and business strategies to penetrate international markets. The company is also considering the possibility of Mahindra Finance setting up operations in Korea to enhance the sales of Ssangyong vehicles.
Present at the announcement. Dr. Pawan Goenka, President, Automotive and Farm Equipment Sectors, Mahindra & Mahindra Ltd made it quite clear that Ssangyong will be an independently run Korean company largely under Korean Management, and will remain a 'Made in Korea' Brand.He also announced that the new CEO of SYMC will be Mr. Yoo-il Lee, while Mr. Dilip Sundaram from Mahindra will be the new CFO.
For 2011, Mahindra and its newly acquired Korean SUV brand, Ssangyong will now look at making strategic investments to augment the long-term profitability of both parties concerned as well as strengthen their foundations as a vehicle manufacturing unit. While, Ssangyong has proposed 70% investment increase in product development, Mahindra is looking at strengthening its product pipeline and aggressively investing in the SYMC brand.