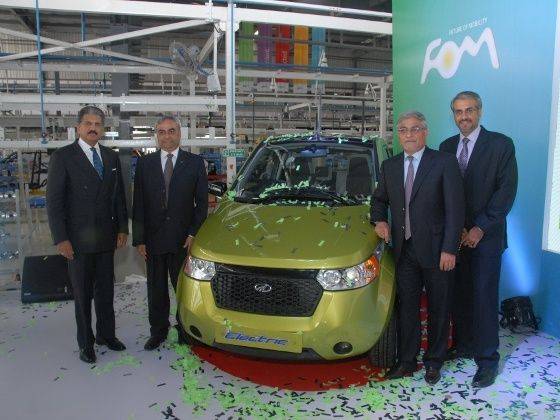 With petrol prices skyrocketing beyond the common mans budget, alternate fuels are sure to make their presence felt sooner than we expected. Mahindra has already thought ahead and will be the first manufacturer to jump onto the electric bandwagon. Mahindra Reva Electric Vehicles Pvt. Ltd., a part of the US $15.4 billion Mahindra Group, formally inaugurated its manufacturing facility, which is the first platinum rated automobile facility in India.

EV's are being seen as a serious alternative to fossil fuel driven cars and Mahindra is all set to take a lead in developing the EV segment and the surrounding ecosystem. The new manufacturing plant is, in a way the first tangible proof point of the Future of Mobility – this is the first purpose-built, ground-up EV plant in India, the first manufacturing plant to get IGBC platinum rating, the first plant where cars get their first fill using solar power. In fact, this plant will consume the least amount of energy per car build, with 1/3rd of this energy coming from solar power.

Mahindra Reva also unveiled a host of technologies. The technologies showcased include 'Quick2Charge', by which the car can be charged in 15 minutes to run 25 km, thereby providing customers with increased convenience. In order to tap and use the abundant solar energy for mobility, Mahindra Reva has designed a personal charging unit called 'Sun2Car' which will provide free and clean energy for the lifetime of the car, making it a very cost-effective solution. The technology, 'Car 2 Home' makes it possible to use energy from the car to power a house.

While it cannot be said that only Electrics will rule the future, it is certain that alternate fuels make a strong case for themselves and will be here sooner than you think. And when they do, Mahindra will be ready.