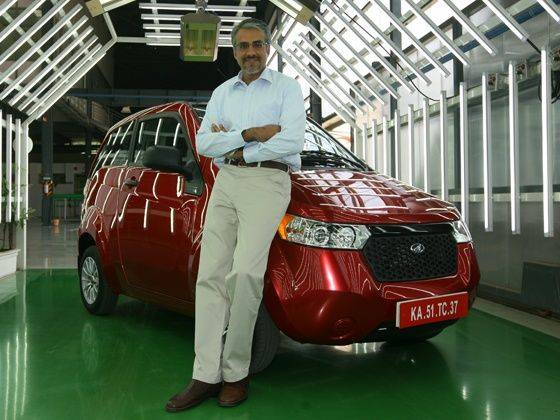 What's the daily running cost of the e2o vis-à-vis regular petrol and diesel hatchbacks?
Chetan Maini: It is definitely more cost effective than a petrol or a diesel car as the cost of energy is about Rs 50 for a 100 km drive.
I drive around 60km daily to and fro from office. Will it be cheaper to run overall compared to a Hyundai i10 petrol or Ford Figo diesel with AC on in full blast?
Undoubted if you drive 60 kms daily, it would mean 1800 kms in a month. This would translate into energy cost of about Rs 900 which is substantially more cost effective than the i10 petrol or figo diesel.
Then to top it off you have the convenience of an automatic transmission in e2o.
Will the e2o drive all the way till 100km per charge? Will I be stranded if it runs out of juice midway?
No! The e2o has a range of 100km and then you have the facility of "REVive" by which you can get an emergency boost charge for you to drive another 8 kms.
What about the battery life and how many units it cost to run 100km? That will give us idea of per km cost.
The warranty on the battery is 3 years or 60,000 kms and it consumes 10 units of electricity for a full charge.
I have heard it takes around Rs 1.5 lakh to replace the battery after 3 years or 60,000km. Any chance of battery cost reducing over the years as technology improves?
Over the last few years the Li-Ion battery costs have been coming down by about 8 per cent every year and at the same time the batteries are becoming more efficient.
The chances are that the battery costs would come down substantially as we go forward.
Will Mahindra be offering battery packs on rent? That could significantly reduce costs!
There are no such plans as of now.
Most people in city live in buildings and don't have charging infrastructure where they park their car. How are they supposed to charge their cars on a daily basis?
Not a problem. Most of our existing customers in Bangalore live in multi-storey apartments. Our dealers' representatives have installed the charge points for these customers in their parking lots, which are in the basements of the buildings by drawing a cable from their meter to the parking bay, as all the electric connection meters in apartments are also installed in the basement.
Does the car's range drop with all four adults seated? Or when I turn on the headlight and AC? Or if I'm driving the car through ghat section?
Yes, as the load increases, energy consumption is also impacted though negligible for headlights.
I weigh more than 90kg. Will I be able to get into the car's rear compartment as it's got only two doors?
Yes.
If I buy the e2o now at a higher price, can I claim a refund in case the government announces a subsidy later on?
We are not in a position to comment on government policies.
Is the solar panel located on top of the car? How much energy do the solar panels store?
The solar panels are external to the car and can be installed in your drive way, terrace or roof of your building.
A 3x3 meter panel can potentially give you energy for about 15000 kms in a year.
How safe if the e2o? Can the plastic body withstand impact during a crash? Does it come with airbags and ABS?
The e2o is a very safe car as it is built on a space frame ( the way sports car are built ) with six crush zones in front for safety and also with side impact bars.
It has gone through all tests including crash test for safety and meets all safety requirements.
Are e2o's electrics reliable? How much will I have to spend on maintenance?
The e2o is very reliable and easy to maintain as it has no engine, clutch or gear box and hence very low on maintenance due to less moving parts.
You require to service the car only once a year and that also can be done by our home service team. There are no costs involved towards oil and filter changes.
Will the battery go kaput if water enters it during monsoon season when one could be forced to drive on waterlogged roads?
You shall be able to drive through waterlogged areas with out any issue. You shall be able to drive through such areas where other conventional cars would have stalled.
Related Mahindra e2o stories:
Mahindra e2o : Special Coverage
Mahindra e2o features and tech specs
Mahindra e2o launched at Rs 5.96 lakh (on road Delhi)
6 reasons why the Mahindra e2o is the coolest car to come out of India yet