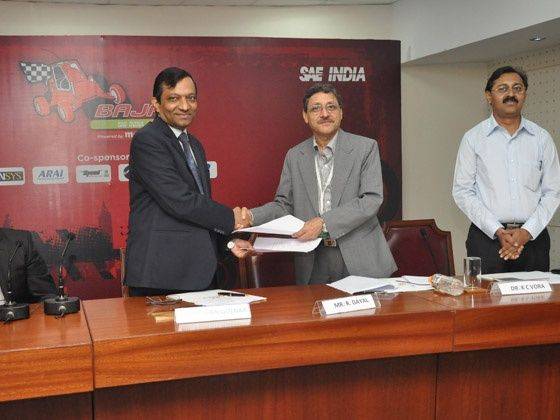 The name may not seem too familiar, but the almost 5 year old BAJA contest in India, is in fact an affiliate to a century old tradition that has been conducted in the US under the SAE International moniker. An ideal playground for young and talented engineering students to display their skill and deep technical knowledge, BAJA SAEINDIA has been an audience puller right from its inaugural year in the country.


Last year's JK Tyre sponsored 4th edition (Read : JKTyre BAJA 4th edition) witnessed 79 fully-functional off-road buggies from various engineering colleges all over the country going head to head in a series of competitions, and irrespective of the great results that it fetched for the best of the lot, the experience was truly overwhelming.


Keeping the excitement and automobile passion ignited amongst the youth of the country, Commercial and Passenger car giant Mahindra & Mahindra Ltd in association with SAEINDIA have now officially announced the launch of the 5th edition of BAJA SAEINDIA 2012.


This year's competition which has already seen registrations from 250 teams, will facilitate young talents to conceive, design and fabricate 4-wheeled single-seater all terrain vehicles. Sponsors for the event include ARAI, ANSYS, BPCL, CUMMINS, NATRiP and VARROC. ARAI, Pune is sponsoring the Engineering Design Award and ANSYS has thoroughly trained the teams in addition to providing them its simulation and design software.
For starters, the registered teams compete against each other in a virtual BAJA, a selection criteria where virtual vehicle mock-ups are created with exact specifications. The final rounds will only have selected 100 teams showcasing their skills, where they will get a chance to compete with their dream vehicles at NATRiP site in Pithampur, near Indore in Februrary 2012.

Speaking at the official launch of the 5th edition of BAJA 2012, Dr. Pawan Goenka, President, Automotive & Farm Equipment Sectors, Mahindra & Mahindra said, "At Mahindra we have championed the cause of BAJA SAEINDIA since its inception in the year 2007. Today Mahindra is delighted to be associated with BAJA SAEINDIA 2012 as the title sponsor and strengthen this association. We are dedicated to honing the skills of young engineering students, which goes a long way towards developing the engineering potential of the youth and the technical human resource required for India. "


According to Mr. R Dayal, Executive Officer, Production Engineering, Maruti Suzuki India Ltd & President, SAEINDIA, said, "This is a unique event that blends the learning and experience in team work and engineering. The Auto Industry is fuelled by the energy and creativity of large number of professionals and technicians engaged within it. Especially in India where our industry is rapidly gaining maturity on a global scale, we will need to plan for a large intake of motivated and qualified young talent."


For the 5th edition of this competition, Mahindra and SAEINDIA are providing students with an innovative, hands-on and out-of-classroom education, a platform to prove their capability in designing a car, within the challenges faced by the auto industry.