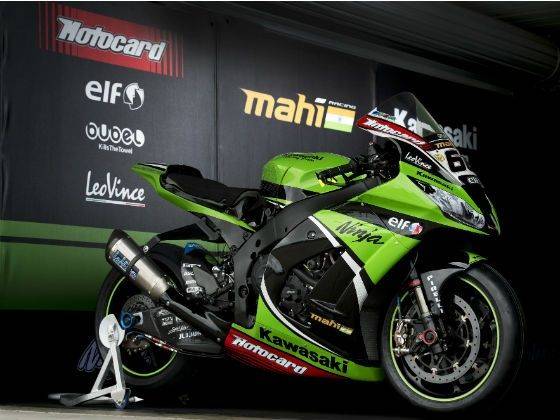 Mahi Racing, the Indian racing outfit announced that it will be sponsoring the Kawasaki Racing Team in the upcoming World Superbike series (WSBK) for the first round of 2013. With this signing Mahi Racing becomes the first Indian brand to sponsor a team in WSBK. The Mahi racing logo will be visible on the Kawasaki ZX-10R bike which will be piloted by riders Tom Sykes and Loris Baz. Apart from the bikes the branding will be seen on the team's pit-box also.
Speaking on the occasion, Amit Sandill, Team Principal of the Kawasaki Mahi Racing Team India said,"This new initiative makes sense because of the TV coverage that the superbike class gets. Superpole 1, 2 and 3 at each race, plus the two races themselves. Back home in India the coverage of Superbike is more than for Supersport right now so that is why we put a sponsorship amount into the KRT team".
The Mahi Racing team which is suported by the Captain of the Indian Cricket team Mahindra Singh Dhoni and South-Indian superstar Nagarjuna Akkineni is the brainchild of Amit Sandill and Andrew Stone. Mahi Racing became the first and only Indian team to announce its complete participation for the 2013 World Super Sport championship (WSS) in the 600cc class of racing late last year. The Indian outfit will be racing factory supported Kawasaki ZX-6R machines which are very closely based on the road-going models. Mahi Racing has signed former champions Kenan Sofuoglu from Turkey and Fabien Foret from France to ride for them this season.
Guim Roda, Manager of the Kawasaki Racing Team, quoted, "We are happy to welcome Mahi on board for the Australian round. For this race, it will be an extension of the big and very good project they are building in Supersport. We will try to give them positive results in this first race and show their brand all over the world, supporting as much we can the Supersport category with Kenan and Fabien as well."
This deal will help Mahi Racing to be exposed to a larger breed of audience since World Superbike Series has a much higher viewership. Also the final round of WSB and WSS is scheduled to take place at the Budh International Circuit (New Delhi) on November 17. The first race of the 2013 WSB season will be held at Philip Island in Australia on February 24.