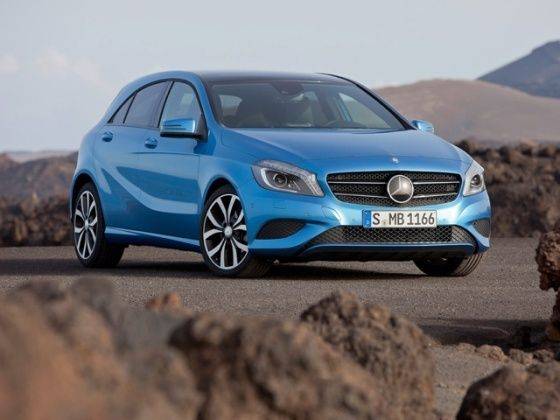 Luxury cars are increasingly becoming popular in the country as India Inc's financial strength maintains a stable growth rate despite economic slowdown elsewhere in the world.
While the established range of entrepreneurs and executives can pretty much have any luxury vehicle they want, there also exists the younger breed of entrepreneurs and executives who aspire for premium automobiles with a luxury badge.
Mercedes-Benz, BMW, Volvo and Audi have recognised this demand and have decided to bring their compact vehicles in the form of luxury hatchbacks to India.
The first offering in the soon-to-be-luxury hatchback segment will be the Mercedes-Benz A-Class. The third generation Mercedes-Benz A-Class is an attractively styled modern car that packs in a lot of equipment especially of the optional kind and a healthy range of safety features. The interiors are adorned with good quality plastics, chrome detailing and leather. Again, there will be many options to spec up the trim materials. All in all, the A-Class has good build quality and has everything onboard to be called a luxury car.
Under the hood, the A-Class has a number of engine options on offer, although the engine of choice for India would undoubtedly be the A 180 CDI diesel engine that develops 110PS of power and 250Nm of torque and is mated to a 7G-DCT dual clutch automatic gearbox. While there are more powerful engine's available on the A-Class range the A 180 CDI will help keep the cost of the vehicle in check, something that will be essential in the initial phase of the luxury hatchback segment. The other engine that could also find its way under the hood of the A-Class for India is the A 180 1.6 litre engine that develops 122PS of power and 200Nm of torque, as it is currently doing duty in the India spec Merc B-Class.
Speaking of the Mercedes-Benz B-Class, the German luxury automobile major is also planning to launch a diesel version of the vehicle in India. This means that the diesel engine doing duty in the A-Class may find its way under the hood of the B-Class as well albeit in a slightly higher state of tune.
Eberhard Kern, president & MD at Mercedes Benz India, says the luxury hatchback is the most promising segment in the Indian market. "As the Indian economy develops, there are more people who move into the higher middle class bracket. They open up a new customer base altogether: there are young professionals; there is a second and third generation of customers coming in; we also see more female customers coming in," he says.
The Mercedes-Benz A-Class should have prices starting at Rs 18 lakh (ex-showroom) if it wants to generate sufficient interest as well as attract a favourable customer base.
BMW, which was pushed to No.2 position in the luxury vehicle segment in India, is not too far behind the three-pointed star when it comes to luxury hatchbacks. With plans to launch its 1 Series hatchback in India during the festive season in 2013, BMW is banking on its very own compact luxury car to appeal to a younger audience.
The 1 Series will be assembled at BMW India's Chennai facility and will be powered by a pair of 1.6-litre petrol and 2.0-litre diesel engines. Both engines are available in various states of tune globally. Power outputs for the petrol engine range between 101PS to 169PS of power and between 180Nm to 250Nm of torque while the diesel motor churns out between 115PS to 217PS of power and 260Nm to 450Nm of torque.
The BMW looks a tad understated compared to the A-Class' swanky design cues that grab your attention at once. However, the 1 Series appeals to enthusiasts like no other with its rear-wheel drive architecture and trademark BMW drive dynamics.
The interiors of the 1 Series also feature the trademark BMW look with its straight and sleek dashboard and switch gear. Quality is impeccable too, however, it just doesn't look as modern as the Merc's dashboard.
Nonetheless, BMW knows what ticks the right boxes in the Indian consumers mind and the 1 Series like all its other models should fly out of the showrooms in no time.
The BMW 1 Series comes loaded with safety features and equipment and will have a level playing field with the Mercedes-Benz A-Class in terms of standard equipment.
Expect the BMW 1 Series to be priced in A-Class money thereby making it a formidable competitor in the segment.
The other German luxury car maker, Audi has been watching its rivals and their decisions to bring luxury hatchbacks into India and is also considering launching its contender, the A3 Sportback in India sometime in 2014.
Audi's A3 Sportback wears a sharp design language with straight lines as compared to the curvy design elements of both the A-Class and 1 Series. The design language may look simple but it's so clean that the A3 is easy on the eyes while being extremely pleasant to look at.
Firepower for the A3 Sportback comes from three engines, a 1.4 litre petrol engine, a 1.6 litre diesel engine and a 2.0 litre diesel engine. In India, the Audi A3's engine of choice will be the 2.0 litre diesel engine and possibly the 1.4 litre petrol engine. The diesel engine develops 143PS of power and 320Nm of torque while the petrol motor is available abroad with 122PS of power or 140PS of power. The diesel engine will be mated to a six-speed automatic gearbox.
The Audi A3's cabin is well equipped with equipment and safety features, however, its minimalist design does make the otherwise well built dashboard, look a tad barren.
With its rivals likely to slap on sticker prices of under Rs 20 lakh for the A-Class and 1 Series, Audi too will have to price its A3 Sportback aggressively.
While Audi India is considering the move to launch the A3 Sportback in India, Michael Perschke, Head of Audi India believes it's too soon to introduce luxury hatchbacks in India as the market is not ready to digest the segment yet.
Volvo meanwhile is taking a different approach to the luxury hatchback segment in India. Unlike the Germans, the Swedish car maker is going to launch a feature loaded vehicle that can compete with vehicles in luxury segments above it and will therefore give it an upmarket price tag. One of the features that completely baffles you is the mobile app that allows the owner to check fuel level, windshield washer fluid level and oil levels on any Android or iPhone!
The Volvo V40 Cross Country for India should be powered by Volvo's 2.0 litre D3 diesel engine that generates 166PS of power and 400Nm of torque. Internationally, the V40 Cross Country is available with a choice of two petrol engines, a 1.6 litre T4 unit and a 2.5 litre T5 unit. Both units are not offered in India at the moment. What Volvo offers here in the S60 instead is a 3.2 litre T6 petrol engine that develops 302PS of power and 440Nm of torque which is more that both the T4 and T5 engines.
The V40 Cross Country's cabin will come loaded with gizmos and safety features that Volvo claim will challenge luxury segments above it. The dashboard is laid out in a contemporary manner and all the buttons and knobs look very neatly arranged. Being a Volvo, the quality of materials should also be top notch.
Volvo is taking a brave step by launching a top-of-the-line luxury hatchback in India when the segment is just being introduced to the market. This is something that Volvo has to be admired for and we are sure that the company has done its homework.
Luxury car makers have so far stayed away from bringing in their compact luxury cars into India. This is because in this nation, size is considered directly proportional to a vehicle's status and price tag, a reason why even premium hatchbacks have failed in the country.
However, heated competition between established players in the luxury car market has forced the German trio, namely, Audi, BMW and Mercedes-Benz into considering every possible avenue to boost sales
While compact dimensions may work against luxury hatchbacks in India, one cannot ignore the sheer number of features that these vehicles pack in, neither can their fantastic build quality and safety ratings be ignored. In terms of quality, safety and technology these luxury hatchbacks make bigger sedans and SUVs look a tad outdated.
Luxury car makers can no doubt attempt to lure in aspirational luxury car buyers, tech savvy car buyers and make a case for their luxury hatchbacks to their existing large car buyers. However, it is only overtime that we shall find out the market sentiment towards luxury hatchbacks in India.
Also read: Mercedes-Benz A-Class launching on 30th May