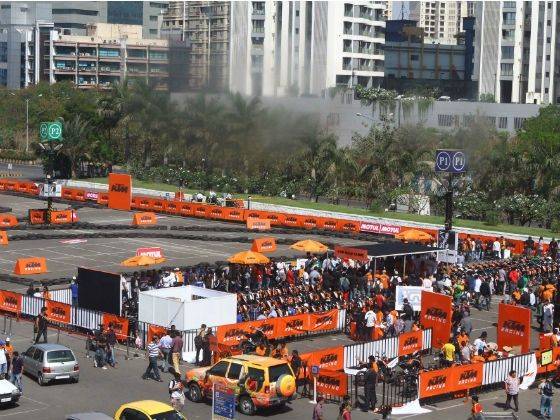 KTM is renowned for its exploits in the world of motorsports and to give its customers a feel of racing the Orange Day was held at the parking lot of Inorbit Mall, Malad in Mumbai. This was the second time the event was organised in Mumbai and even with soggy humidity levels and high temperatures more than 200 KTM owners turned up for the event. The main objective of the Orange Day is to give the KTM owners a common platform on which they can race their machines in a safe environment and also to improve camaraderie among them.
Once the registrations were over a special rider clinic was held for the participants. Since for most of the contestants this was their first time racing the clinic helped them learn the basics of racing and details like riding postures and racing lines. Post the racing clinic riders were given a sighting lap around the track so that they could get a feel of the track layout after which the instructors did a demonstration lap.
Now it was time to race and it was an action packed event with few crashes and slips and some brilliant overtaking. The number of contestants was limited to 42 and riders were distributed into a group of six riders each. Top two finishers from each group qualified for the next round. For the final rounds, top two finishers of each group were divided into two groups A and B. It was a hard fought and intriguing final race which was eventually won by Sher Badsha Khan in group A and Sachin Khagle in group B. To add more spice to the event the winners of the finals were stacked up against the winners of the last year, which was won by Sachin Khagle who was crowned the Duke of Mumbai.
The highlight of the event was the importance given to safety and all the riders were asked to turn-up in proper riding gear which included gloves, jackets, knee guards and helmet. For the participants who didn't have complete riding kit with them they had the option of renting them out for a nominal fee. Apart from the race there were other activities to keep the participants and the crowd busy like service-camps, stalls for KTM accessories and apparels. Once the prizing ceremony got concluded a special stunt show was held to bring the Orange Day to an action packed finish.
Apart from the racing and other activities, KTM utilised the event to showcase its race-spec 350 SX-F freestyle motocross bike. The 350 SX-F is powered by a liquid-cooled 350cc Single, DOHC, 4-valve single cylinder engine pumping 55PS of power at 13,400rpm. Sadly the bike isn't for sale in our country but will be showcased at KTM showrooms across the country along with the RC-8 superbike to increase brand awareness of the KTM marque among the masses.