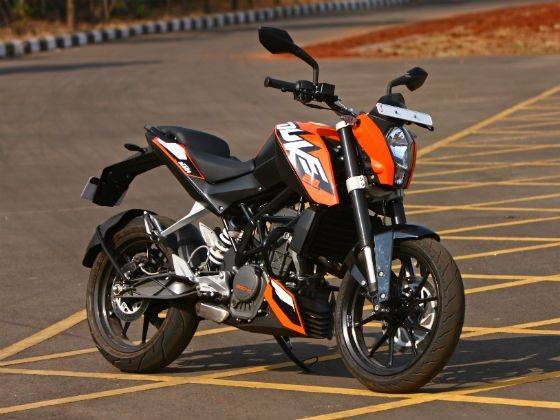 After Bajaj Auto purchased 47% stake in the company, Austrian brand KTM made its Indian debut in January 2012 with the 200 Duke. KTM is a well known brand in Europe for its rugged moto-cross bikes, but was an unknown name in our country and it was a huge task for them to create brand awareness among the masses. They started their Indian operations with the premium naked bike, 200 Duke which is powered by a 200cc liquid cooled mill pumping 25.3PS of power.
The 200 Duke was well received by consumers and was instant hit among the youth who got their hands on a no-nonsense performance street bike with ample power without shelling out a fortune. KTM was able to price the bike so competitively due to its association with Bajaj who enabled the Austrian brand to localise majority of its components instead of importing them.
Now a year down since its introduction the 200 Duke has registered sales of 8,500 units which has enabled KTM to become the highest selling premium motorcycle brand (brands whose entire product portfolio is priced above Rs 1 lakh ex-showroom) in the country. The Austrian brand has also been very innovative in its marketing strategy by organising events like Orange Day and Orange rides all over the country. The Orange Day specially has been a hit among its consumers since it gives them an opportunity to race their steeds with fellow riders in a controlled environment.
Speaking on the occasion, Amit Nandi, Vice President (Probiking) Bajaj Auto said, said "When someone wants a normal street bike he has a lot of options in the market but when he wants to buy a thorough-bred racing machine he knows that KTM is the only one. The number of motorcycle racing enthusiasts in India is much larger than what most people think."
Currently KTM has a dealership network of 70 and with sales showing positive signs company officials said they plan to add more dealerships by the end of the year. The company also said that it will be launching two new bikes this year. The first being the highly anticipated KTM 390 Duke which will produce an impressive 45PS of power which will be launched in mid-2013. The second bike lined-up by KTM will be a small displacement supersport bike which has been designed with inspiration from its RC8 superbike and Moto 3 machine and is slated to hit the showrooms in the forst half of 2014. To promote its brand, KTM will bring its flagship supersports bike, the RC8 for display purpose in showrooms across the country.