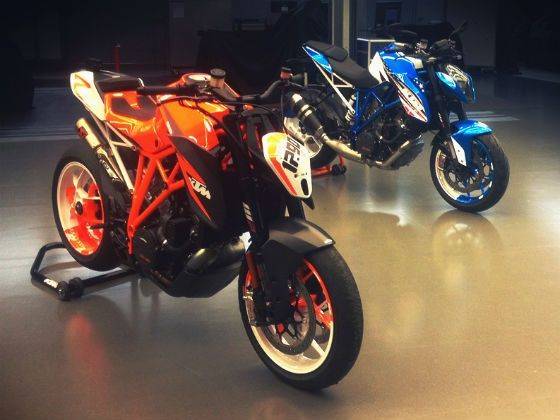 It has become a trend of sorts nowadays for pictures of eagerly anticipated cars and bikes to be leaked before their official launch. KTM too seems to have been bitten by this bug with pictures of the much-awaited 1290 Super Duke R surfacing on the web. KTM had organised a special pre-launch preview to its American dealers and pictures of the bike were published by an employee of the Kiska Design agency, the people responsible for designing it.
From the pictures one can make out that there are no drastic changes on the production model from the concept shown at the 2012 EICMA Motor Show, which is a good thing. The major differences are the headlamps and the exhaust. The funky headlamp design is a love or hate it affair though personally I like them. The chunky and mean looking exhaust pipe has been retained from the one seen on the test mules. Overall the design of the bike is very sharp and edgy which works in KTM's favour.
No details are available on the mechanical front but it is been rumoured that the bike would be powered by the RC8-sourced V-twin pumping out close to 185-190PS. If this is true, then the 1290 Super Duke R would be one of the most powerful production naked bike on sale and one fire breathing beast to tame. The Austrian bike manufacturer has provided all the necessary electronic nanny to help the rider from being bitten by the beast like ABS, traction control, stoppie and wheelie protection. But if you like being a hooligan and do some stunts then you can disengage stoppie and wheelie protection.
Also, to woo the American bikers, KTM will launch the 1290 Super Duke R in a unique red, white and blue paint scheme titled 'Patriot Edition'. Apart from the body panels, the paint theme has been carry forwarded on the wheels also which sport a two-tone finish of blue and white with stars and "USA" painted on the rim. One more highlight is the Eagle emblem on the tank and wings on the outer edge of the headlight.
The production version of this beast would most likely be launched in November at the 2013 EICMA Motor Show in Milan. It is doubtful whether KTM would bring its naked beast to our shores but if they would, be ready to shell out a hefty premium, since the bike would be brought in as a CBU (completely built unit).