Kawasaki Is Green But Not That Green
---
There will be no electric bikes from Kawasaki in the near future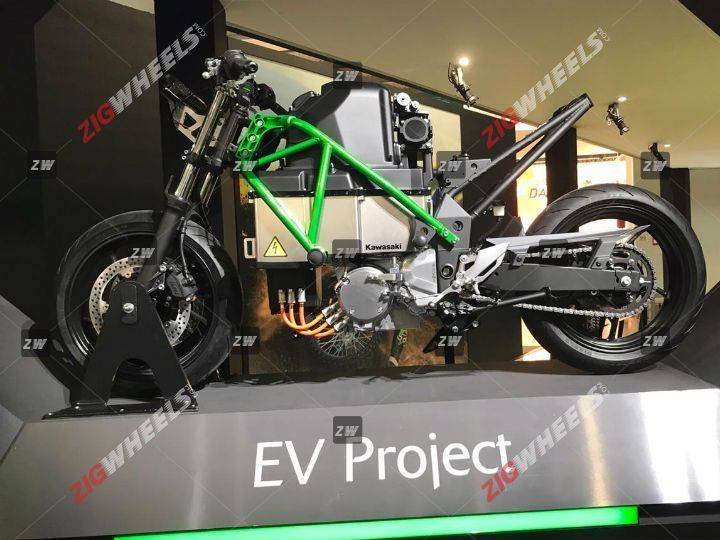 Despite having shown a prototype electric motorcycle at EICMA earlier this month, Kawasaki says it has no plans to produce an electric bike anytime soon. According to KHI Motorcycle and Engine Company president Yuki Horiuchi, the Ninja 300-based e-bike has been created merely as an engineering exercise, as part of an effort to "find more avenues to explore to expand the excitement of control on two wheels."
This statement raises more questions than answers. Kawasaki has been researching electric motorcycles for many years, by its own admission. The bike shown at EICMA is pretty much identical - down to every last nut and bolt - to a bike seen in patent drawings filed by Kawasaki way back in 2012. How can this bike act as an engineering exercise when seemingly no engineering has been done for the last seven years?

The figures aren't stellar either - this portly 219kg prototype can only manage about 100km on a single charge. Its electric motor's peak output is a meagre 27PS and even this can only be delivered in short bursts. Maximum continuous output from the motor is just 13.6PS. These numbers are very 2012 indeed. In comparison, a state of the art Zero SR/F weighs almost exactly the same - 219.9kg - but is powered by a 111.5PS motor and reaches a top speed of over 200kmph. All this while while managing a combined-cycle range of nearly 200km and charging up to 95 per cent in just 80 minutes.

So what does Kawasaki stand to gain by displaying what appears to be a stagnant prototype that is so far behind the curve? Perhaps the brand is working on areas unseen to the naked eye, like battery technology or software. Or maybe all this is just a diversion and Kawasaki is using the knowledge gained from this prototype to secretly develop a brand-new production electric bike.
It's also possible that Kawasaki really is telling the truth and actually has no interest in EVs in the near future. Only time will tell.
Source: Bennetts
Add Your Comments