Kawasaki Ninja 400 Now Available In Snazzier Colours
Jul 31, 2020
Views : 7472
---
The 399cc parallel-twin engine is yet to receive its Euro 5-compliance updates
The new colours have been introduced in Thailand.
Expect these colours to be offered on the 2021 Euro 5-spec machine globally as well.
Hopefully, there will be some respite in terms of pricing for India.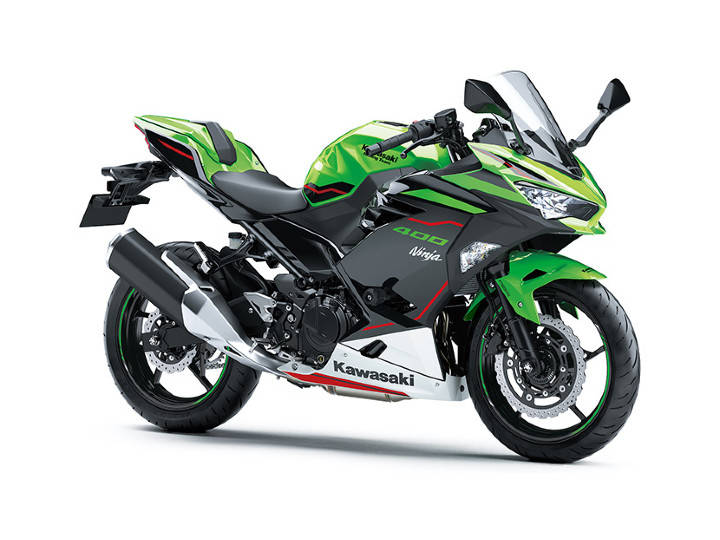 Kawasaki Thailand has introduced four new colours for the hot Ninja 400. The new colours are for the 2021 model, with no price revision in store for them. There appears to be no change to the engine as well with the Euro 5 updates seemingly put off for a European unveil later in the year. Expect Kawasaki India to bring a couple of these new colours next year with the BS6 updates. While we do not expect the ridiculously high asking price of Rs 4.99 lakh (ex-showroom India) to be reduced for 2021, we hope that it at least remains the same for the BS6 bike.
The Ninja 400 gets the same new KRT scheme that debuted on the Ninja ZX-6R a few weeks ago. There is none of the gold honeycomb stickering present now and in its stead comes simple and subtle red stripes. Even the 400 badging is less obvious on this shade with the white bottom panel adding a bit of nostalgia to the mix.
Also Read: The Inline-four Kawasaki Ninja ZX-25R Has Been Launched! Guess How Much It Costs?

In Thailand, the Ninja 400 is sold in standard and SE variants. The KRT livery is found on the SE and so is the new turquoise blue/silver scheme. It does seem a bit much, the colour isn't very commonly found on two-wheelers, especially on the ones that roll out from the green side of Japan. The other black/white and grey/green/black colours are a bit too subtle for this firecracker of a motorcycle that is the Ninja 400.
Also Read: Kawasaki Ninja 400 Road Test Review

The 399cc parallel-twin engine is yet to be updated to meet the Euro 5/BS6 emission norms. In India, we used to receive the souped-up Japanese-spec bike which produced 49PS and 38Nm. Expect no drop in performance but a slight gain in kerb weight on the BS6 bike.
Which of these colours would you like to see on the Ninja 400 in India and how should the bike be priced now? Shoot your opinions on the bike on our social media channels or in the comments below.
Add Your Comments