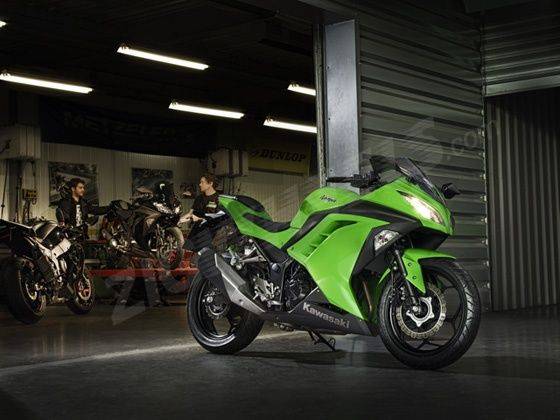 It got raised eyebrows, the moment we laid eyes on the supposed 2013 Ninja 250 pictures. Amazing super sport styling accompanied by new cycle parts, a fatter rear tyre and not to mention some much needed mid range grunt. However the latest news from Kawasaki tells us that the bike is in fact 300cc and not a 250.
The all new body as we discussed before looks absolutely smashing with styling cues taken from the acclaimed ZX-10R. The current Ninja already looked bigger than a 250 cc motorcycle should and with the new styling it's become literally impossible to claim this as a quarter litre sportsbike. What has also taken a back seat is the archaic analog speedo console. In comes a modern digital dash which is not only eons ahead of the current set up but also offers a lot more information.
The fuel injected parallel twin unit will now displace an impressive 296cc with dual throttle valves. Guaranteeing effortless performance over long riding hours will be thanks to the changes in the heat management and will also result in lesser heat reaching the rider. Large openings in the fairing will mean a better intake via the radiator fan which is now covered. Expect a considerable bump in power and torque.
The chassis has been beefed up as well while rubber bushings further cut down vibrations. A suspension upgrade has been carried out as well to go with the other updates. With the CBR already the ABS option, Kawasaki has left no stones unturned either and the new bike from Team Green will be available with ABS option as well. Kawasaki also informs that the new ABS control unit is the worlds smallest yet and will provide amazing stopping prowess.
However the most surprising announcement is the inclusion of a slipper clutch which will be the first in a small displacement motorcycle. The new Ninja 300 will be unveiled in a week's time at the Ninja Times Square Take Over event in the United States. Another interesting fact is that the this baby Ninja will be a 300 only for the European market. The Japs and the Americans might continue with a 250 cc configuration with the possibilty of the 300 following suite. Atleast we hope India gets the 300. Keep watching this space for more!