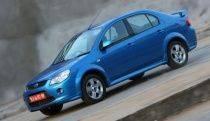 There is no stopping this man. He has stood proud for the country time and time again. His name is on everyone's lips and his popularity is not diminishing even an ounce. I speak of none other than the fastest Indian, Narain Kartikeyan.His presence as a driver in the A1GP series was a boost for Team India no doubt, but that is not enough. After repeated races, and many struggles on the grid, Narain did what he does best- he took the checkered flag at the A1GP race in Zhuhai, China, making him the first Indian to ever win an A1GP race.
It almost seemed like clockwork. Narain was quick around the track during testing and qualifying, which earned him the 3rd spot on the grid. The fact that he managed this himself had the team escalated, because in the previous races they have been plagued by issues ranging from the car setup to prolonged pit stops,However in Zhuhai, Narain and the team were in form a number 3 position on the grid, almost guarantees a podium position.The race was spectacular, and Narain was fury on the track. He inched his way into second and then on lap 29 he took the lead from the New Zealand team during the second pit stop window and went on to fly past the checkered flag, earning him his first victory in the A1GP series. A lap time of 1:25:183 on lap 28 was recorded as his fastest lap, and Narain managed to hit a top speed of 262.8 kph.
Commenting on the win , Narain Kartikeyan stated," This is really a great victory, not only for me, but for Team India as well. It is a morale booster that has come early in the season . I look forward to more victories in coming races."This is the third season of the A1GP series, that witnesses 22 nations fight it out in 11 races that take place in 10 different countries. The sport is reporting a growing popularity amongst the youth and is truly an international event. The next race for the season is going to be at Taupo, New Zealand. Keep your eyes fixed on the fastest Indian to hit world class motorsport!