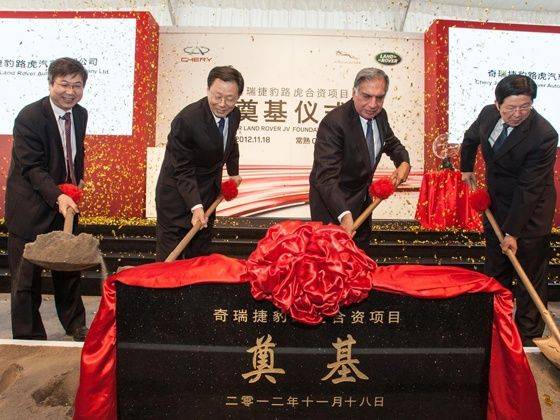 Car makers are cashing in on the booming Chinese car market where the luxury car segment is doing particularly well. British luxury car marques Jaguar and Land Rover have recorded an 80 per cent rise in sales up to October 2012, compared to a 60 per cent plus increase in 2011.
To capitalise on the situation, Jaguar Land Rover (JLR) have set up a Joint Venture with Chinese car maker Chery Automobile Company, to establish a manufacturing facility in Changshu near Shanghai, China. The Chery Automobile Company with 15 years of experience in the automobile industry is the largest automobile exporter in China.
The two parties will invest nearly $ 1.75 billion (Rs 9619 crore) in the new plant which is expected to be ready by 2014, and will include an engine production facility and a R & D centre.
The joint venture will also result in a domestic brand that will tailor its products for the Chinese car market. The joint venture has been named as the Chery Jaguar Land Rover Automotive Company, by Dr Ralph Speth, Jaguar Land Rover CEO and Yin Tongyao, Chairman and Chief Executive Officer of Chery Automobile Company.
The joint statement by Dr Ralf Speth and Yin Tongyao, said, "We are delighted to have reached this milestone, achieved thanks to the understanding and foresight of the Chinese authorities and we want to thank them for recognising the potential of our joint venture in the fast growing Chinese market."
The JV will contribute to industrial investment in China, generate employment and introduce advanced technology and low carbon solutions. Chery's understanding will give JLR a deeper insight into the Chinese automobile car market while JLR's heritage and experience as a premium vehicle manufacturer will enable a strong character for the new Chery Jaguar Land Rover Automotive Company.
Also read: Tata Motors to invest $1.6 billion more in UK's Jaguar Land Rover