Jaguar XE SV Project 8 Retains Its Four-door Nurburgring Supremacy
Jul 25, 2019
Views : 1832
---
The radical sedan set a lap time of 7:18.361 seconds, which is 2.9 seconds faster than the record it set in 2017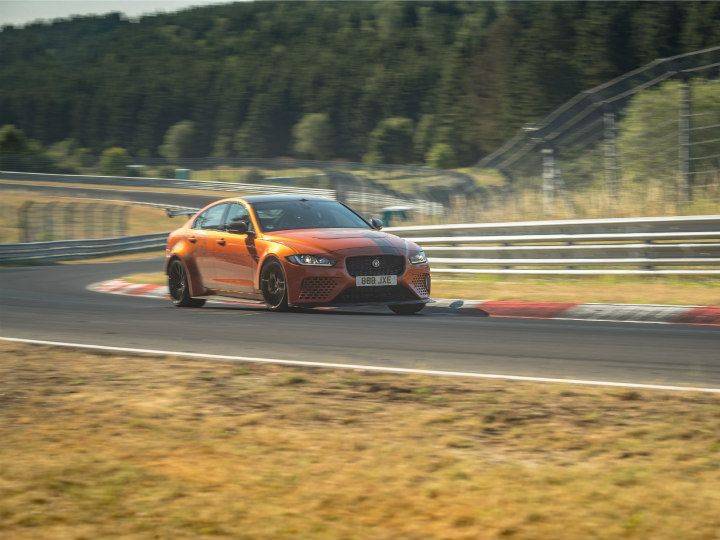 Record breaking lap was set in the Track Pack variant of the Project 8.

Aside from a new set of Michelin Pilot Sport Cup 2 R road tyres, it featured no performance alterations.

The project 8 is powered by a 5.0-litre supercharged V8 that produces 600 PS and 700Nm of torque.

The lap record is the perfect swansong for Jaguar to retire the super sedan.
The Nurburgring is one of the longest and most dangerous tracks in the world. With its long straights and variety of bumpy corners, it is the ultimate test for a production vehicle. Thus, whenever a manufacturer breaks a record at the 'Ring, it is noticed worldover. In November 2017, Jaguar had set the benchmark for production sedans by setting a lap record of 7:21.23 seconds at the Nurburgring in a radical, track-focused XE SV Project 8. Fast forward two years, Jaguar has reinforced the XE SV Project 8's production sedan crown by setting a new record lap of 7:18.361 seconds driven by development driver Vincent Radermecker. This lap is a whopping 2.9 seconds faster than its previous record lap set in November 2017.
The major talking point about this feat is that Jaguar didn't alter any technical specifications of the super sedan for record-breaking attempt. In fact, the only thing that was different in this run was a new set of Michelin Pilot Sport Cup 2 R road tyres for better cornering grip.

Jaguar had introduced the XE SV Project 8 in 2017 with a limited production run of just 300 sedans. It was developed with a host of upgrades from its Special Vehicle Operations group. The XE SV Project 8 super sedan is powered by a supercharged 5.0-litre V8 that produces 600PS and 700Nm of torque, which made it the most powerful Jaguar road car ever at the time. The combination of performance and aerodynamics helped the radical sedan hit 0-100kmph in just 3.3 seconds before topping out at 322kmph.
Also Read:

Aside from power, SVO also gave the super sedan various aerodynamic revisions that consisted of carbonfibre bits including the front and rear bumper and a vented hood. Other changes included 20-inch forged alloy wheels and flared bodywork. The Project 8 features all-wheel drive as standard and gets a flat underbody, a rear diffuser, and an adjustable rear wing to aid stability. The XE SV Project 8 was also given stiffer springs, manually adjustable shocks, improved steering and throttle response as well as ceramic brakes.

This record attempt comes at a time when Jaguar is preparing to wrap-up production of the Project 8. In fact, the last units of the sedan will be ready by the end of this year. Thus, this should serve as the perfect swansong for Jaguar to retire the XE SV Project 8 super sedan in style, undefeated as the fastest production sedan in the world.
Also Read:
Recommended Variant :
XE Prestige
Jaguar XE 2016-2019 Video Review
Add Your Comments