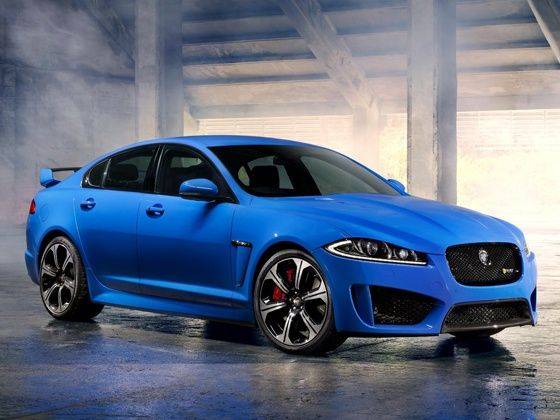 Jaguar seems to be on a definitive performance path. Having unveiled the F-Type sports car that picks up where the legendary E-Type left off, the company has now revealed the XFR-S super saloon at the 2012 Los Angeles Auto Show.
Armed with the supercharged 5.0-litre V8 petrol engine that in Jag's R-S state of tune belts out 550PS of power and 680Nm of torque, the new XFR-S is a very alluring vehicle for anyone looking for the complete super saloon. The engine is mated to an eight-speed gearbox that incorporates Jag's 'Quickshift' technology developed for the F-Type. The engine-gearbox combination can catapult the XFR-S from 0-100km/h in 4.4 seconds and can take the four-door saloon car to an electronically limited top speed of 300km/h.
Jaguar says that the car has been developed by incorporating both engineering and emotional values from the XKR-S and F-Type performance cars to give the XFR-S a driver centric, fast, agile and responsive super saloon version of the XF executive luxury saloon.
Jaguar has made sure that this performance saloon is not confused for a run-of-the-mill XK saloon.
With Jag's R-S moniker slapped on, the XFR-S gets a deeper front bumper with larger air intakes and a carbon fibre front splitter to streamline airflow under the car at high speeds. The car also gets extended side sills, aeroblade mountings behind the front wheels to keep the airflow attached to the sides of the car for as long as possible.
The body work includes deeper side mouldings behind the rear wheels, a deeper central carbon fibre air diffuser to reduce lift and a massive rear spoiler on the boot lid that is available in two options both of which provide added downforce at high speeds; the larger of the two spoilers has a carbon fibre aerofoil centre section.
All the aerodynamic tweaks put together reduce overall lift by a substantial 68 per cent to give the car the stability it needs to deal with the added oomph under the bonnet.
The new Jaguar XFR-S also gets new lightweight alloy wheels that come with a dual ceramic and gloss black finish. To keep with the sporty nature of the car Jaguar has replaced all the chrome on the exterior with gloss black finished metal and in the process doing away with the trademark executive luxury saloon look.
The car will be on offer in a choice of five colours, namely, French Racing Blue, Ultimate Black, Stratus Grey, Polaris White and Italian Racing Red.
When the Jaguar XFR-S goes on sale in the UK in May of 2013 it will be priced at £79,995 (Rs 70.55 lakh) and will take on the Mercedes-Benz E63 AMG and the BMW M5.