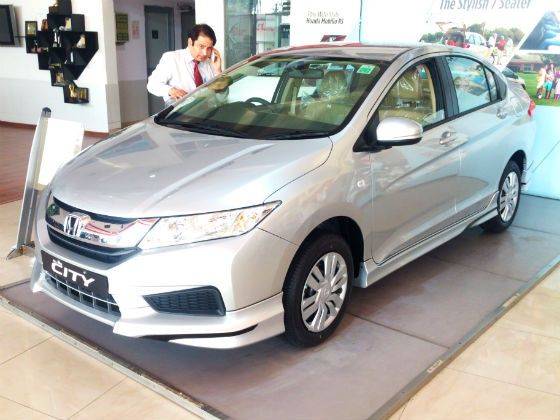 The Mobilio RS is a few months away but is Honda testing the waters with a City RS before its launch? This isn't official yet but Honda dealerships are displaying the City with a body kit that's very much in line with what we saw on the Mobilio RS, although not as extensive. This includes a sporty add-on for the front and rear bumper and side skirts as well. A boot-lip spoiler rounds off the package which costs Rs 74,000. While Honda isn't mentioning anything of this sort publicly, sources say that these kits come from the company and are fitted at company workshops.
Also see: Mobilio RS Gallery
If a customer buys this kit as part of the various accessories Honda offers, the body kit displayed in this picture is made to order in the colour the customer has booked the car in and fitted at the dealer level. We've been told that the success of the City is making the car quite common on the road and so quite a few customers are opting for this kit to stand out of the crowd.
The body kit is only a bolt-on accessory to improve aesthetics. It will not benefit the car in terms of performance in anyway and will in fact increase drag and add to the weight of the car. It does look quite good though we admit and adds a bit of character to the car.
Recently we also found out about the Renault Duster adventure edition kits being available as a dealer fitment. Is this something car manufacturers have started actively exploring? We are starting to see a trend here.