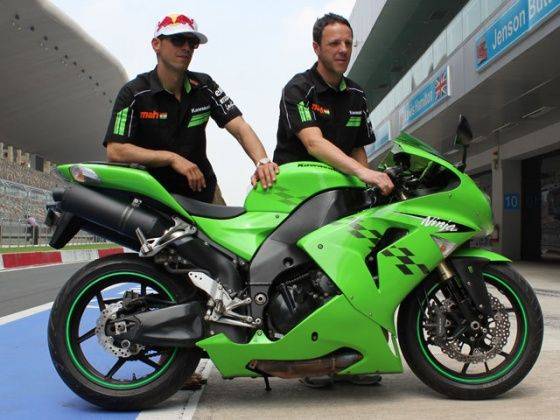 Mahi Racing Team India has made big news in the country as an Indian motorcycle racing team owned by cricketer Mahendra Singh Dhoni. Mahi Racing Team India has already made a mark in the first race of the 2013 FIM Supersport World Championship in Phillip Island where both team riders Kenan Sofuoglu and Fabien Foret performed commendably. Kenan took the chequered flag while Fabien finished fourth.
The two riders were on the Buddh International Circuit to check out their home track and interact with Mahendra Singh Dhoni about bikes, racing, sportsmanship and more.
We at ZigWheels took the chance to catch up with the two riders of Mahi Racing Team India during their India trip. And here is what they had to say:
ZW: You have performed well in the first race of the season. Where do you expect to finish in the next race on the Motorland Aragon race circuit in Spain?
Fabien: We expect to finish on the podium. Based on performance, the team and the bike we can achieve the target.
ZW: How has the support been from Kawasaki's side?
Fabien: As we are an official Kawasaki team we get the best support, bikes and parts throughout the season.
ZW: Tell us a little bit about the bike. How does it feel on the track?
Kenan: The bike feels good on the track. I feel that the Yamaha bikes handle better in the corners, but I feel that our Kawasaki bikes can make it up on the straights.
Fabien: The bike feels fast and is very capable on the track.
ZW: What are your expectations from the season?
Fabien: As a team we expect to win the championship title for the season. As riders, we hope one of us wins the title while the other won't be far behind.
ZW: How is Mahendra Singh Dhoni as the owner of the team?
Fabien: We spent an evening with Mahendra Singh Dhoni, he is very passionate about motorcycles. He asked many questions about bikes in general and told us about the bikes he owns. We also spoke about cricket and about sportsmanship. We discussed the pressures we face in our respective sports while also discussing the common friends we have.
ZW: What do you ride at home?
Kenan: I ride a Yamaha scooter.
Fabien: I ride a Kawasaki W650. It is a cruiser bike and I enjoy riding it on the road because as a racer the roads feel slow and a cruiser allows you to enjoy the ride and the weather.
ZW: What are your comments on the BIC?
Fabien: It is a very safe and wide track. But there are some blind corners that make it a bit difficult. The track is also very fast. But the challenge will lie in using the vast track space optimally.
Also read: Mahi Racing clinches debut Supersport win at Philip Island